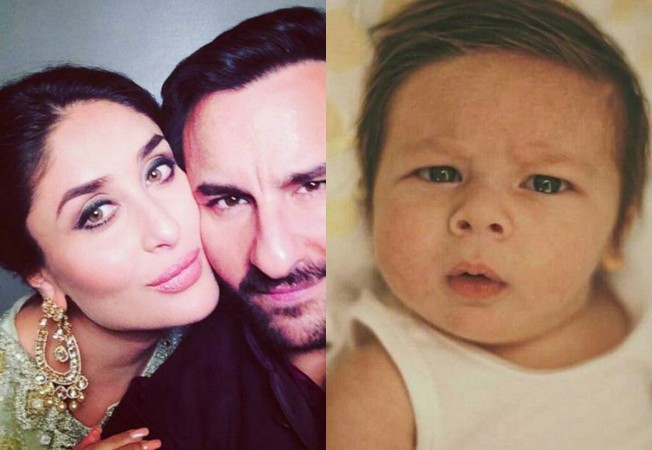 Kareena Kapoor Khan and Saif Ali Khan's son Taimur Ali Khan has been a popular star kid, courtesy his name that sparked controversy soon after his birth. While the world has seen Taimur's latest picture that went viral, it seems the star couple wasn't prepared for it.
Saif had apparently put Taimur's photo as his Whatsapp display picture when it was spotted by someone and in no time, they found the picture going viral on internet. While Saif was fine with it as he didn't plan to hide Taimur from the world, Kareena was upset with it.
Talking about Kareena's reaction to Taimur's picture being leaked out, Saif told Hindustan Times, that the actress reacted to the incident as 'nazar lag jayegi.'
"Yes (she was not happy). She was like, 'Nazar lag jayegi and all of that'. But agar nazar lagni hoti toh Kareena would be in the hospital by now (smiles). I don't believe in all of that. I didn't mean to share it. It was my WhatsApp display picture. But it is fine. I don't plan to hide him," the Rangoon actor said.
"We will have a tough time figuring out how to bring him up. I think Taimur is already a bit of a popular chap. So, I think we will have to teach him to be grounded, as people will watch whatever he does," he added.
Given that Kareena is a strong and flamboyant women, her reacting in this way is quite shocking.
In the interview, Saif also mentioned how he misses home more after Taimur's birth. "I miss home more now (after Taimur's birth). I don't feel happy about shooting from 9 am to 9 pm every day. I miss Taimur when I'm away. In our (Kareena and his) relationship, we feel good that we have brought someone into the world together, someone who is half hers and half mine," he said.
"I think we were ready for that. We have had lots of fun by ourselves. Now, it's time to share a little responsibility and take things to another level," he added.
Earlier, the Nawab of Pataudi had clarified about the controversy over naming his son Taimur by saying that people are free to say whatever they want. He and Kareena liked the name and said that they are also aware of the heritage of the Turkish ruler. While the king was Timur, their child's name is Taimur, an ancient Persian name that means iron.