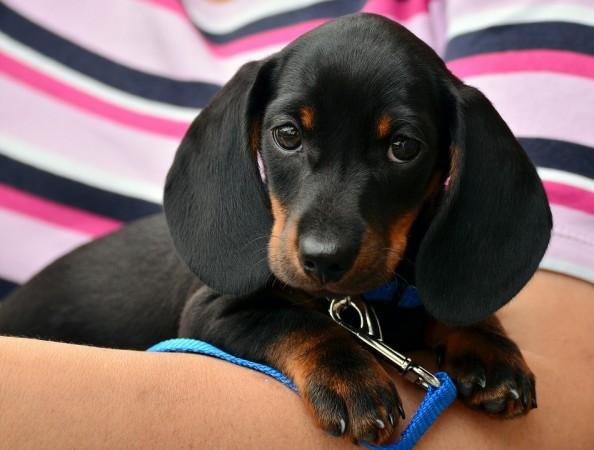 A research found that people who take their dog out for a walk have an impact on their mental health too. Reports state that dog walking actually makes people feel happy.
ALSO READ: This cute therapy dog Norbert will make you go awww!! [VIDEO]
This new study is carried out by the Psychologists from University of Liverpool with Dr Carri Westgarth as the lead author, which found that the people who go for dog walking do it as it helps them in feeling happy and not because it benefits them health-wise and socially.
Detailed study of the personal written experiences of the perceptions of the dog owners who still go to walk their dogs were closely analysed. The researchers conducted 26 personal interviews along with personal experiences of walking their pet dogs.
ALSO READ: Sex is important for you ladies! Here's why
It was found that the owners took their dogs for walks thinking about the health benefits the pet would get, but it was clearly observed by the researchers that the health of the owners too was benefited by the dog walk.
The happiness of the dog owners depends on their belief about their dog having fun during the walk too. The enthusiasm of the owners to walk their dog gets affected when they start feeling that their dog has grown too old or is lazy.
Rise in interactions and increased activities with other dog owners were not found to be that inspiring.
"The factors that motivate dog walking are extremely complex, yet we know they can strongly motivate human health behaviour," Dr Westgarth said.
"It is crucial to understand why owners walk their dogs if we are to be able to effectively promote owners to walk their dogs more," Dr Westgarth added.
ALSO READ: Include THESE in your diet if you are in your 60s

Dog walking is found to be a popular thing to do on the daily in the UK as more than 8 million dogs are present in the households there, according to reports. Dog owners were found to be more physically active than non-owners, but there were some cases in which some owners hardly walked with their dogs.
The recommended level of minimum physical activity is 150 minutes per week and it has been found that the dog owners who walk briskly with their pets walk at least for half an hour per day, this boosts the population levels of being physically active.
ALSO READ: Dwarf galaxy emits 15 fast radio bursts; could it be from aliens?
"It's clear from our findings that dog walking is used to meet the emotional needs of the owner as well as the needs of the dog. This may explain why pilot dog walking interventions with messages focused on owner or canine health or social benefits have not been particularly successful," Dr Westgarth stated.
"Possible key points for future interventions to increase dog walking are to promote how it may increase the dogs, and thus the owner's, happiness," Dr Westgarth concluded.