Bad press and negative social media publicity is usually a good enough reason for VVIPs to not behave like one, or repeat their mistakes when in public space. But nothing seems to have taught Karnataka CM Basavaraj Bommai how to treat sportspersons with respect and dignity, they so deserve.
Once again, the Karnataka CM and his usual indifference towards sports and sporting events was on display when he missed the felicitation of the Santosh Trophy winners. Things did not end at a missed appearance, but CM Bommai also made the winning state team wait for an hour and a half.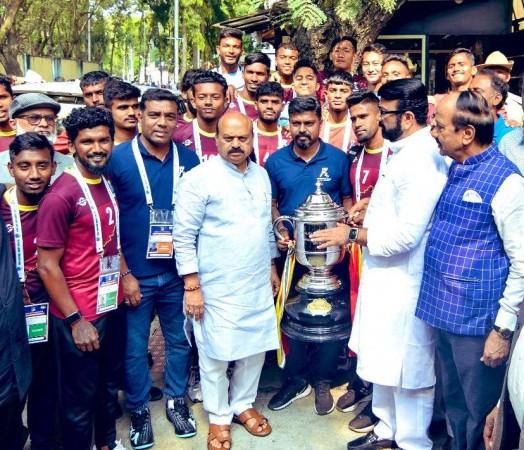 It's not until a week later that the CM finally greets the team on Friday but not inside his official residence over a cup of tea but on the footpath outside his house.
As per some ground reports, highlighting the unbecoming attitude of the CM, the champion team was given a time slot of 15 minutes, during which they stood outside the CM's house for more than an hour.
When eventually Bommai did grace them with his presence, the customary smile, photo-ops, handshakes were all done in a few minutes to get them over with.
When tennis legend Bjorn Borg walked away
Last month, Swedish tennis player Bjorn Borg experienced first-hand the callous attitude of Basavaraj Bommai towards sports and sportspersons in general, when the Karnataka CM turned up almost two hours late for a sports event.

Eventually, the tennis legend walked away from the event meant to felicitate him. Borg was in Bengaluru to support his son Leo for the Bengaluru Open Tournament. At the time, netizens schooled CM Bommai not only on punctuality but his disregard towards others, especially their time.
Among those who tweeted their disapproval was former J&K Chief Minister Omar Abdullah who said, "It's not uncommon for politicians and celebrities to turn up late –sometimes by several hours –at events in India. Someone should have warned Bjorn Borg that in this part of the world the more important a person thinks they are, the longer they believe others must wait for them."
Looking at the bad press the CM received, one thought he might have learnt his lessons in image management.
Why Santosh Trophy is a big deal?
Bigger so, for Karnataka, the state that has brought home the trophy after a long spell of 54 years. Santosh Trophy, a prestigious national football championship, named after Maharaja of Santosh, celebrates the finest of Indian football. In the semi-finals, Punjab took on Meghalaya, while Services took on Karnataka in the second semi-final. Karnataka bagged the trophy after beating Meghalaya 3-2 in a riveting final match held at the King Fahd International Stadium in the Saudi Arabia Capital of Riyadh. For Karnataka, Sunil Kumar in 2', Bekley Oram in 19' and Robin Yadav in 42' scored the goals to end Karnataka's jinx at the championship. This is the first trophy for Karnataka since 1968-69.