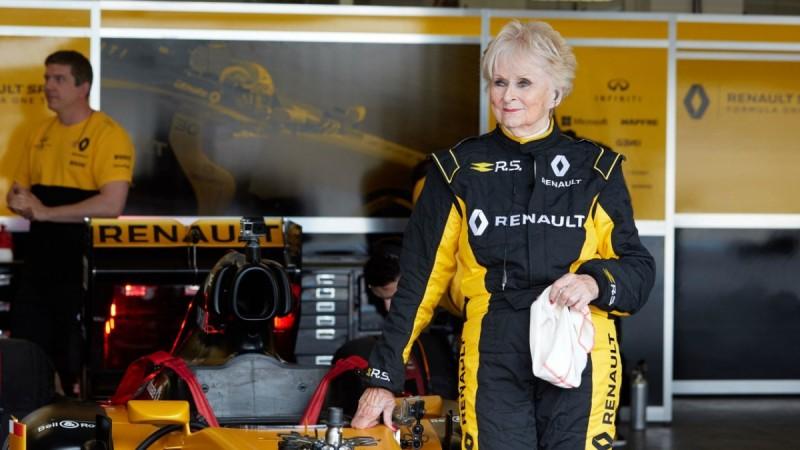 Numbers are not small things in Formula One. Most of the racers have been declared winners with just split second difference in the highest class of single-seat auto racing in the world. While it's a sport for young bloods with passion at its peak during their 20s and 30s, 79-year-old Rosemary Smith has proved her age is just a number when the passion for sport refuses to die down.
Rosemary Smith, a rally driver got behind the wheels of Renault Sport Formula One Team car as part of the team's 40th-anniversary celebrations. Driving a Formula One car was Irish-born Smith's lifelong dream and she finally drove one in the Circuit Paul Ricard in France. Rosemary also compared notes with Renault Sport Formula One team driver, Jolyon Palmer. Renault has also confirmed that Rosemary has become the oldest person to drive its Formula One team car in the attempt.
"Driving an 800bhp car is something I, like many other racers, have always dreamt of but I didn't think I'd ever have the opportunity to do it, so when the team at Renault UK contacted me I jumped at the chance. It was definitely very different to the rally cars I'm used to but was an amazing experience. I could feel myself getting more and more comfortable with the single-seater and being able to speak to Jolyon, driver to driver, also helped when the nerves did kick in," Rosemary Smith said after the drive experience.
Rosemary initially trained as a seamstress and opened her own dress shop. One of her clients invited her to navigate in a rally and that was the turning point of Rosemary's motorsport career. She has competed in some of the most iconic rallies around the world, taking home many trophies despite disqualifications and people looking to hold her back in the notoriously male-dominated sport. Some of the notable victories include the famous Tulip Rally, which she won in 1965, an achievement which made not only the motorsport world take notice but also Hollywood, with Elizabeth Taylor and Richard Burton sending her a huge bouquet.
Watch the video here