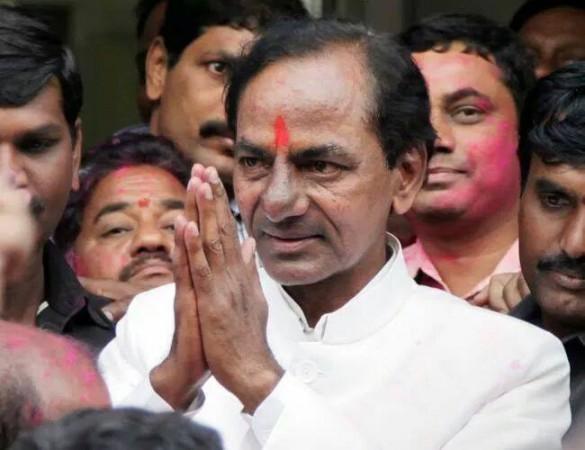 Telangana Chief Minister K Chandrashekar Rao has given a call to the farmers' coordination committee - The Rythu Samanvaya Samithi – that it should play a key role in the activity of distribution of pattadar passbooks, distribution of investment support scheme cheques under Rythu Bandhu and implementation of farmers' Life Insurance Scheme.
He made it clear that the government decided to provide investment support for agriculture to rescue the farmers from debt trap but certainly not aiming for votes in the elections.
"There was a time when Telangana farmer lived with great respect and honour. The farming was fairly good. Farmers were in a position to offer donations in tune with their status. The policies adopted in united state pushed agriculture into a bad shape. Farmers have lost almost everything in all aspects. We thought that the situation should improve after formation of Telangana. Accordingly, we initiated and implemented several schemes benefiting farmer. To begin with, we waived the farmers' loans to a tune of Rs 17,000 crore, then constructing irrigation projects; fertilizers and seeds are provided on time without any delay," he said.
"The Congress leaders have said that they would waive loans of farmer to a tune of Rs 2 lakh if they come to power. But this is just not possible. The state's income from all sources is Rs 10,525 crore. Out of this Rs 2000 crore are to be spent towards loans. Another Rs 6,000 crore will have to be spent on employees, salaries, pensions, and other subsidies. This leaves the state with just Rs 2,500 crore for spending on government schemes and other activities. This means if we have to waive the loans of farmers to the tune of Rs 2 lakh as promised by Congress leaders, it requires 20 months and that too if we do not pay salaries to employees. Is it possible? Is it possible to run a government for 20 months without paying salaries to the employees? Under any circumstances it is not possible. However Congress party is making false promises which it cannot fulfill. This has to be understood by people," he added.
[Source: ANI]