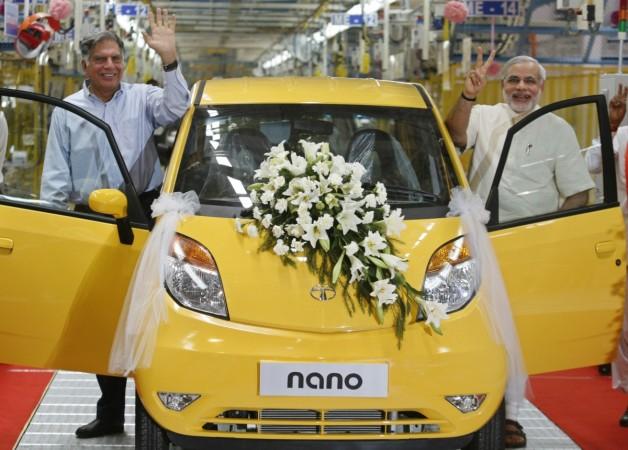 The production of Tata Nano, Ratan Tata's dream project, went down as much as 90 percent for the month of October as the Tata Motors' Sanand plant rolled out only 74 units in the period.
In the current financial year, during the period April- October 2017, the company has manufactured only 1,299 units of the small car as against 5,380 units during the same period last year, reported financial express.
This trend shows that Tata Nano production has hit an all-time low. Tata Group's Chairman Emeritus Ratan Tata's dream project of making the most affordable car for Indian families is on verge of fading away.
The production numbers are bleak, primarily because sales are far from desirable. Since the start of the current financial year, the company could sell only 1,493 units, which is 71 percent lower on a year-on-year basis.
According to the FE report, the company is currently working on a business strategy that revolves around optimising loses and picking up volumes to increase profitability.
Earlier in August Tata Motors Chief Operating Officer (COO) Satish Borwankar said "Going forward, alternative plans for Nano are being considered. Like the electric version of the small car, production of Nano is no longer a viable proposition."
Tata Son's Chairman N Chandrasekran also accepted that not just Tata Nano, but every passenger vehicle is losing money. He then stated that the company has adopted a strategy to cut down the number of platforms from current six to two, to advance modular platforms.
A recent report in Business Standard said that dealers of Tata Motors, in most parts of the country, had stopped placing orders for Tata Nano and had started also offering discounts to clear out existing stocks.
Tata Nano has been an emotional project for Tata Motors, especially for Ratan Tata. Hence, scarping it completely won't be that easy.
The small car was one of the primary reasons for the ugly spat between Ratan Tata and former chairman Cyrus Mistry, which later led to Mistry's ouster as chairman of Tata Sons, the holding company.
Mistry had alleged that Tata Motors was unable to shut down the loss-making small car owing to "emotional reasons."
Hence, Tata Motors may revive the small car by making an electric version. A recent report suggests that Tata Nano will be built and sold by Jayem Auto, a Tata Motors-backed company, but nothing has been confirmed by the company yet.
Last month, Tata Motors won the bid to supply 10,000 electric vehicles to EESL.