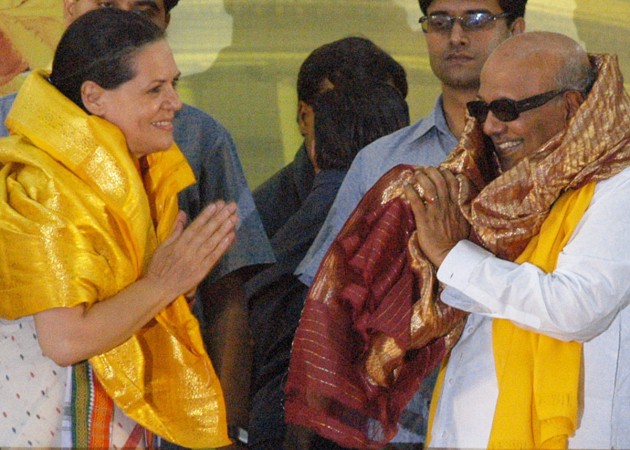 The Congress on Saturday announced an alliance with the Dravida Munnetra Kazhagam (DMK) in Tamil Nadu to fight the upcoming Assembly elections in the state.
Congress leader Ghulam Nabi Azad met with DMK chief M Karunandihi in Chennai on Saturday and said the two parties would contest the Tamil Nadu elections in an alliance. However, the sharing of seats is still to be finalised, DMK leader MK Stalin told reporters, according to ANI news agency.
"Our main goal is to put in place a government led by the DMK," Azad was quoted as saying by The Hindu after the meeting with Karunanidhi. The two parties are also looking to bring actor-politician Vijayakant's DMDK into the alliance, reports said.
The alliance will look to topple the ruling All India Anna Dravid Munnetra Kazhagam (AIADMK) government led by Tamil Nadu Chief Minister J Jayalalithaa. "The DMK, Congress and other allies will be a very formidable combination to defeat other political parties," Azad said.
The DMK and the Congress had joined hands in 2004 for the Lok Sabha elections, but the alliance fell apart in 2013 due to differences over the Tamil Eelam issue in Sri Lanka.
On Friday, reports said the Aam Aadmi Party was also set to contest the Tamil Nadu Assembly elections under the People's Welfare Front umbrella that also includes the Left parties CPI and CPI(M) as well as the Marumalarchi Dravida Munnetra Kazhagam (MDMK), led by Vaiko.
Meanwhile, the Bharatiya Janata Party (BJP) is also looking to make inroads into Tamil Nadu, and is reportedly set to hold talks with various parties to form an alliance in the state.