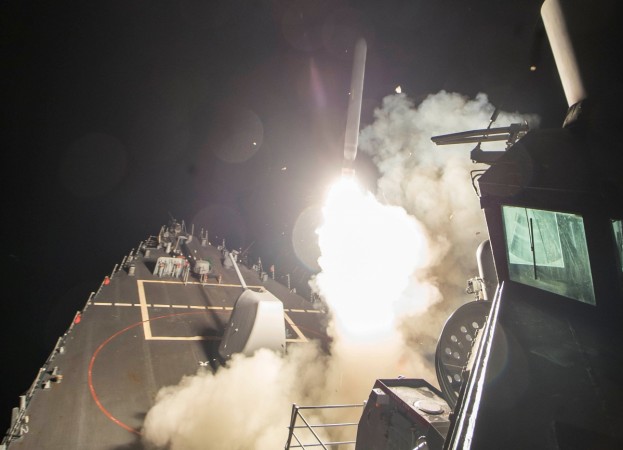 At least eleven civilians, including four children, have been reportedly killed in the United States airstrikes on a Syrian airbase, SANA, a Syrian news agency stated.
The claims, which were not verified, from the Syrian state agency came soon after US President Donald Trump authorised firing of 59 "precision-guided" Tomahawk cruise missiles at a Syrian airbase on Thursday. The US missile strike was carried out in response to a chemical gas attack in Khan Sheikhun that killed 70 civilians, including 20 children and 13 women.
The Syrian army denied involvement in the chemical airstrike.
Soon after the strike, Syrian forces described the act as "blatant aggression", and accused the US of being a "partner of ISIS."
The agency claimed that the civilians in villages near the Syrian airbase were killed in the US strike. Many were wounded and several homes were badly damaged in the missile strike, the news agency reported.
The report could not be verified as the Syian state media are known to peddle propaganda to discredit the Syrian government's opponents, The Sun reported.
The Syrian military officials had earlier claimed that the missile strikes had killed at least seven people and wounded nine others.
Considering the US strike was "precision-guided", it is still not clear why there would be children present at the Syrian military airbase.
The US missile strikes were reportedly conducted on the same base from where the chemical attack was launched on civilians in Syria's Idlib.
Trump on Thursday confirmed that he had ordered a missile strike on the Syrian airbase after the chemical attack:
Tonight I ordered a targeted military strike on the airfield in Syria from where the chemical attack was launched. It is in this vital, national security interest of the United States to prevent and deter the spread and use of deadly chemical weapons. There can be no dispute that Syria used banned chemical weapons, violated its obligations under the Chemical Weapons Convention and ignored the urging of the UN Security Council."