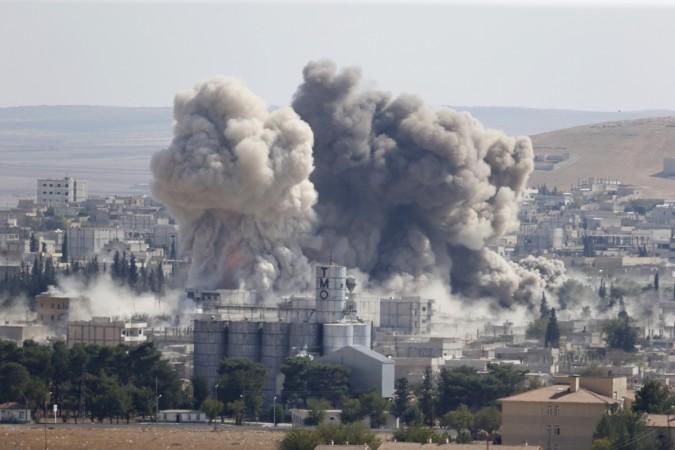 The Islamic State (Isis) militants launched a massive suicide attack on two major Syrian territories, Kobani and Al Hasakah -- located around three-hour driving distance from each other in the wee hours of Thursday.
Kurdish sources claimed that at least 30 people were killed and 100 injured. YPG militia is currently engaged in the battle, while a group of 30 Isis fighters are holed up in houses around Kobani.
The Isis reportedly re-entered Kobani on Thursday, 25 June, morning and launched a fresh attack on the city, in what is being seen as an attempt by the group to raise the morale of its fighters, following a string of defeats in Syria.
The Isis fighters, wearing Free Syrian Army uniforms, drove into the city in five vehicles in the early hours of Thursday. A suicide bomber in one of the vehicles blew himself up at the border crossing, while the remaining fighters started firing, The Guardian reported.
The Isis fighters simultaneously launched another attack some 200 km away in Hasakah, where the radical Sunni group was able to push Syrian soldiers out of the city and reportedly gained ground in its western frontiers.
The UK-based Syrian Observatory for Human Rights (SOHR) reported that the Isis rebels entered Kobani from Morshed Binar border crossing with Turkey. Dozens of civilians were killed and injured in the Isis attack, the SOHR noted.
Sky News, citing Turkish officials, claimed the Isis militants entered Syria from Jarablus, not from Turkey as reported by several news sources. Kurdish sources still have maintained that Isis fighters entered into Syria from Turkey.
Kobani was liberated from the Isis control by the Kurdish fighters around January after a bloody 112-day battle, CNN reported. The Isis was routed out of Hasakah in May after Kurdish YPG forces, with the help of the US-led airstrikes, captured several key areas of the Syrian province, Ara News had reported.
Recently, the YPG militia also captured the border town of Tal Abyad and cut off the Isis from its main supply line in Raqqa.
Soon after this, the Kurdish forces, backed by the US-coalition airstrikes, captured another Isis strategic military base in Syria - Ein Issa - located a few kilometres away from the militant group's de facto capital Raqqa, the Associated Press reported.
#Turkey | Video posted by Anadolu Agency showing a car coming from west #Kobani to hit the border gate. pic.twitter.com/CxrXjJDyDv

— Zaid Benjamin (@zaidbenjamin) June 25, 2015