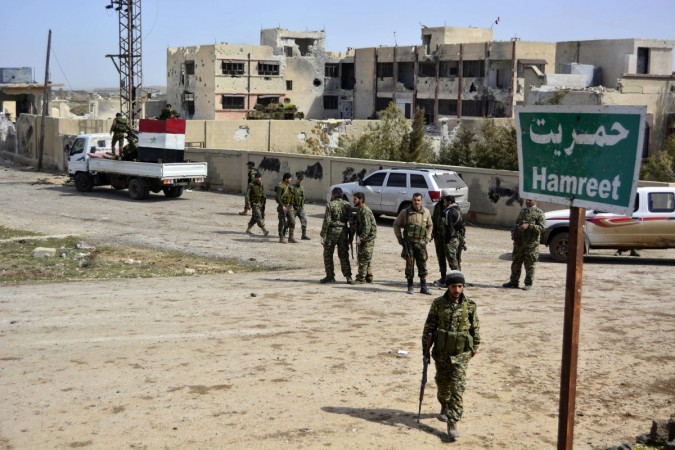 The Syrian Army late on Monday night reportedly gained control over the strategic city of Sheikh Miskeen in Daraa, bordering Jordan, after defeating the rebels of the Free Syrian Army (FSA) and Jabhat Al-Nusra — al-Qaeda's Syria chapter.
The forces of Iran and the Lebanese Hezbollah backed the Syrian Army in achieving the victory after they began the attack on the rebels on 28 December, 2015, Syrian Observatory for Human Rights said.
The Syrian Arab Army's 15th Brigade achieved the victory at 10:30 pm, Damascus Time, on Monday, (2 am IST on Tuesday), Al-Masdar News reported.
The Syrian Arab Army, with the backing of the National Defence Forces (NDF) and the 7th Mechanised Division, captured the Al-Omari Mosque in the morning, after which they captured the remaining neighbourhoods in the Al-Diri District.
After capturing the remaining buildings in Sheikh Miskeen, the Syrian armed forces announced victory over the city. At least 98 personnel of the Syrian armed forces, NDF and the Palestine Liberation Army (PLA) were reportedly killed in their battle against the rebel and Islamic factions.
Meanwhile, unconfirmed report suggested at least 300 Islamist rebels were killed in the clashes.
The airstrikes carried out by Russian and Syrian warplanes backed the pro-government forces to defeat the rebels in the city.
The Syrian armed forces will now head to defeat the rebels in cities and towns of Da'el, Ibta, and Nawa in western Daraa.