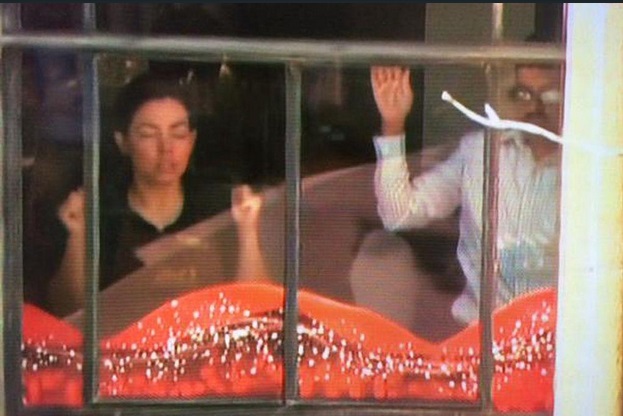 Three people, including the gunman, were killed at the end of the 17-hr siege in Lindt Cafe in Sydney. The two hostages who died were Lindt managaer Tori Johnson and Barrister Katrina Dawson.
9.30 pm (IST): Three people are reportedly dead, including the gunman. The Indian IT professional who was among the hostages has escaped safely, and was seen running out of the cafe on news channels.
Another Indian national was also among the hostages, according to the Ministry of External Affairs, which confirmed that both are safe.
"The hostage crisis in Sydney is over. Vishwakant Ankit Reddy is safe. He is undergoing some medical check ups and will be back home safe," Sushma Swaraj, External Affairs Minister, tweeted.
7 News Sydney reporter Chris Reason tweeted - "Seven News has been told that the two dead are the gunman and a hostage. The hostage killed by the gunman."
Three are said to be injured.
9.10 pm (IST): The siege is over, the New South Wales police have reportedly said, though all details are not yet out. The fate of the hostage-taker is not yet known.
'Police confirm the siege has ended after the scene at Martin Place erupts with gunfire as hostage flee the scene,' according to 7 News Sydney.
4 people are said to be seriously wounded, with a young woman seen bleeding.
9.08 pm (IST): Police fired gunshots as they entered the building and threw flash grenades.
9.03 pm (IST): Police and paramedics stormed into Lindt Cafe opening fire after more than 14 hours of siege.
Seven hostages are said to have escaped, but 4 are reported to be seriously wounded.
Several hostages were seen running out of the building.
7.30 pm (IST): The gunman has been identified by the police as Man Monis, a 50-year-old self-styled cleric from Iran, who had once written harsh letters to the families of Australian soldiers who had died in Afghanistan.
He was also involved in the murder of his former wife last year, according to The Sydney Morning Herald, which reported that he has also been accused of sexual assault.
Monis had written letters to the families of Private Luke Worsley and Lance Corporal Jason Marks, who were killed in Afghanistan between 2007-2008, according to SMH, and was awarded with a 300 hour community service.
3.53 pm (IST): The #illridewithyou hashtag is trending on Twitter in Australia in the midst of the Sydney hostage crisis, with more than 22,000 tweets aimed at quelling anti-Islam sentiments post the attack.
Sydney woman Rachael Jacobs sparked off the trend after she reportedly told a Muslim woman who was removing her hijab to put it back on, saying "I will walk with you".
More than 40 Muslim groups in Australia have condemned the incident.
Earlier in the day, Twitterati poured out anger over the hostage crisis, with several posting anti-Muslim comments with the trends #Muslims and #Islamic.
3.45 pm (IST): The lights at the Lindt cafe have been switched off, and the police have refused to give the reason behind it.
According to The Sydney Morning Herald, a female hostage was seen turning off the lights at the cafe.
2.55 pm (IST) : Indian IT giant Infosys has said one of its employees is held hostage at the Sydney cafe.
2.45 pm (IST): "The lights in the cafe have just gone off," 7 News reporter Chris Reason tweeted.
2.15 pm (IST): The New South Wales police have activated Task Force Pioneer, which is usually done to address terrorism related incidents, The Sydney Morning Herald reported.
Hostages are being forced to hold the Islamic flag and are being used as human shields as the gunman moves across the windows of the Lindt Cafe in Sydney, according to local reporters.
"Hostages inside the Lindt cafe have been made to hold up an Islamic flag and used as a shield from police snipers," 7 News Sydney tweeted.

When the 5 hostages escaped, the gunman could be seen from here getting extremely agitated, shouting at remaining hostages Chris Reason @ChrisReason7
1.35 pm (IST): "There is information that an Indian IT professional is among hostages in Sydney": Union Minister Venkaiah Naidu.
"There is some info that one of our Indian IT professionals is among those held hostage in the cafe. The external affairs minister is in touch with authorities concerned and trying to get information," Naidu said.
12.50 pm (IST): Hostages have told the media that the gunman has allegedly placed four bombs in Sydney's Central Business District, two inside the cafe and two others at undisclosed locations.
"Gunman has also told police there are 4 bombs - 2 inside the cafe and 2 in Syd CBD. This direct from 2 female hostages inside #tennews," Network Ten news presenter Matt Doran tweeted.
12.30 pm (IST): The gunman who has taken siege of a Sydney cafe has reportedly demanded that an ISIS flag be delivered to him for the release of hostages. He has also demanded to speak with Prime Minister Tony Abbott, according to Channel Ten News.
"Hostages inside café say the perpetrator needs #ISIL flag delivered directly... if that is done one hostage will be released," the channel tweeted.
"He needs the ISIL flag to be directly delivered to the cafe; And his 2nd request is to speak to the Prime Minster," it said in another tweet.
"The man inside the café said that if police could get him an ISIS flag, then he would release some hostages," a member of Sydney's Muslim community told The Sydney Morning Herald.
11.30 am (IST): Two more hostages have escaped from the Lindt Chocolate Cafe, as per reports. Two women were seen running out of the cafe, according to 7 News Sydney.
11.05 am (IST): According to the police, negotiators have established contact with the armed man who has taken several people hostage in a Sydney cafe.
10.18 am (IST): Three hostages have reportedly escaped from the Lindt Chocolate Cafe in Martin Place, Sydney, which has been under siege of at least one gunman.
The three, including one staff member and two customers, were seen running from the cafe on Channel 7 footage, according to The Sydney Morning Herald.
9.45 am (IST): The Grand Mufti of Australia and imams across the country have condemned the act.
"The Grand Mufti and the Australian National Imams Council condemn this criminal act unequivocally and reiterate that such actions are denounced in part and in whole in Islam," a statement said.
"His Eminence the Grand Mufti, the Australian National Imams Council and the Muslim community express their full support and solidarity with their victims and their families and aspire to a peaceful resolve to this calamity."
9.30 am (IST): Indian Prime Minister Narendra Modi condemned the Sydney hostage crisis incident. "The incident in Sydney is disturbing. Such acts are inhuman & deeply unfortunate. I pray for everyone's safety," he tweeted. The Indian consulate in Sydney has reportedly been shut.
9.20 am (IST): Lindt Chocolate Cafe Australia, which is currently under siege by at least one gunman who has held several people hostage in the cafe, said on its Facebook page -
"We would like to thank everyone for their thoughts and kind support over the current situation at the Lindt Chocolate Café at Martin Place. We are deeply concerned over this serious incident and our thoughts and prayers are with the staff and customers involved and all their friends and families. The matter is being dealt with by the authorities and we are waiting for any updates from them".
9.15 am (IST): Uber has come under criticism for introducing surge pricing in the middle of the hostage crisis that has led to a lockdown of Sydney.
It had said that fares will be as high as $100 minimum to "encourage" drivers to take passengers from Sydney's Central Business District.
Uber later issued a statement that all rides from the area will be free. " Uber Sydney trips from CBD will be free for riders. Higher rates are still in place to encourage drivers to get into the CBD," the company said.
9.09 am (IST): "We are being tested today, but we met that test head-on," New South Wales Premier Mike Baird has said.
"The police are being tested, the public is being tested, but, whatever the test, we will face it head-on and we will remain a civil, democratic society." Baird told the media.
A gunman has taken several people hostage in a cafe in Sydney, and an Islamic flag was seen on the window, leading to evacuation of all major landmarks in the area.
At least 20 people are believed to be inside the Lindt Chocolate Cafe in Martin Place in Sydney, where a gunman entered at about 9.40 am on Monday (local time) and is still to be apprehended by the police. Hostages were seen at the window of the cafe with their arms in the air.
An Islamic flag seen on the window has triggered fears of a terror-driven hostage crisis. The message it carried translates to mean ""There is no god but God and Muhammad is the messenger of God".
However, Andrew Scipione, police commissioner in New South Wales province, has said that they have not yet declared the incident as a terror-related event.
Some security experts have said the flag is not that of the Islamic State.
"The flag being shown in the window is not an Islamic State flag, nor one for the other best-known jihadist group Jabhat al-Nusra. Rather, it appears to be a Shahada flag, which represents a general expression of faith in Islam, though has been co-opted by various jihadist groups," national security correspondent David Wroe told The Sydney Morning Herald.
Terrorism experts believe that the flag could be symbolic of the terror group.
"Getting hold of an [Islamic State] flag would be quite difficult, and people will make do with what they have got," Greg Barton, a terrorism expert from Monash University, told the paper.
Police commissioner on flag: "We're still trying to work out what exactly it stands for" - http://t.co/PD7pVfU9pQ pic.twitter.com/p6wo0TCsDA

— ABC News (@ABC) December 15, 2014
The US Consulate in Sydney issued an emergency message to American citizens to "maintain a high level of vigilance" due to the hostage situation.
Australian Prime Minister Tony Abbott sent out a statement - "New South Wales Police and the Australian Federal Police are currently responding to a reported hostage-taking incident in Martin Place in Sydney. This is obviously a deeply concerning incident but all Australians should be reassured that our law enforcement and security agencies are well trained and equipped and are responding in a thorough and professional manner".
Several landmarks around the area have been evacuated, including the Opera House, the State Library, the Downing Centre and others.
An incident was also reported in the Sydney Opera House, though the information is not yet clear.