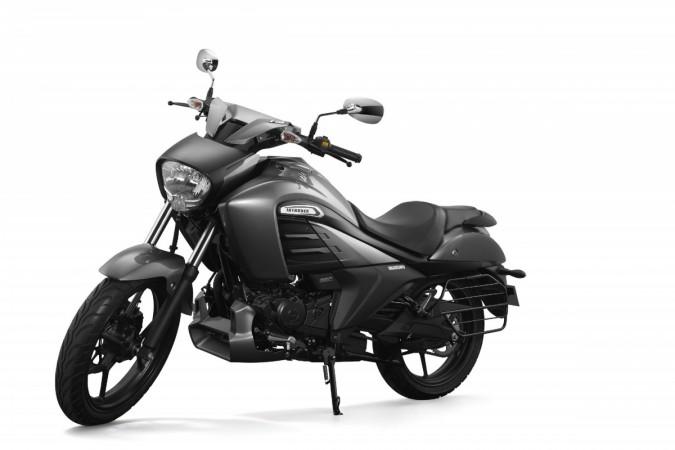 Suzuki Motorcycle India, the Indian subsidiary of Suzuki Motor Corporation, Japan (SMC) has further upped its ante in the cruiser segment with the introduction of the Fuel Injection (Fi) variant in its Intruder model. Suzuki launched the Fi version of the Intruder nearly five months after the regular version was launched in the country.
The new Suzuki Intruder with fuel injection is priced at Rs 1.06 lakh, which is about Rs 7,000 premium over the carburetted version of the modern cruiser. The standard version of the Intruder is currently being retailed at Rs 99,995 (all prices ex-showroom Delhi).
In its new Fi avatar, the Intruder comes equipped with Suzuki Advanced Fuel Injection Technology with 6 sensors. There are no other changes have been made to the Intruder in the new version and it continues to be powered by the same Gixxer engine. The engine is tuned to churn out 14 bhp of power at 8,000 rpm and 14 Nm of peak torque at 6,000 rpm.

The Suzuki Intruder, which inherits design cues from the legendary Intruder M1800 features telescopic front suspension and monoshock rear suspension. The new Intruder Fi will also be available in two colors – Metallic Oort/Metallic Matt Black, and Glass Sparkle Black/Metallic Matt Titanium Silver as the carburetted version
Suzuki Intruder rivals Bajaj Avenger 180, the only contender in this segment. Although Bajaj had updated its Avenger line-up recently adding Avenger 180, the model is yet to gain fuel injection. Bajaj replaced the Avenger 150 with the new 180 model.
What is fuel injection and how does it help?

Fuel Injection equipped engine directly delivers fuel into the combustion chamber by the means of an injector. Fuel injection atomizes the fuel through a small nozzle under high pressure. The system ensures smoother and more consistent and quick throttle response, hassle-free cold starting and easier adjustment to the ambient temperatures. It also helps in better fuel efficiency and less maintenance needs.
Suzuki Intruder comes equipped with Suzuki Advanced Fuel Injection Technology that calculates the optimum amount of fuel required for better combustion and hence providing an accurate throttle response at all RPMs.