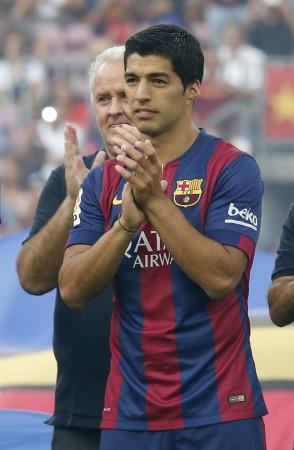 Uruguay striker Luis Suarez will be making his official debut for Barcelona when the Catalan club travel to the Bernabeu to face rivals Real Madrid in the first La Liga Clasico fixture of the season on October 25.
Suarez, who completed a £75 million move from Liverpool to Barcelona this summer, is currently serving a four-month ban for biting Italy defender Giorgio Chiellini at the 2014 World Cup.
Earlier it was thought that the former Ajax man would be missing the Clasico fixture as FIFA had announced the ban on 26 June (two days after the bite incident), meaning that he would be returning on 26 October.
However, the Court of Arbitration for Sport, who overruled Suarez's ban from all "football related activities", allowing him to train with the club and participate in friendly fixtures, has confirmed that the striker's ban will only be applicable till 24 October as the bite incident took place on 24 June.
"Luis Suarez can play the clasico which will be played at the [Estadio] Santiago Bernabeu on October 25 at 18:00," read a statement in the club's official website.
"The Court of Arbitration for Sport [CAS] confirmed to FC Barcelona that the Uruguay forward's ban ends the day before, at midnight on Friday October 24. Therefore Suarez can make his official debut as a Blaugrana player in the game against Real Madrid, should Luis Enrique decide to do so."
Meanwhile, Barcelona's other signing Jeremy Mathieu is set to miss the Catalan club's fixture due to an ankle injury.
The 30-year-old, who arrived from Valencia for €20 million this summer, was fine as he played for the full 90 minutes during France's 1-1 draw against Serbia in a friendly fixture last week. However, after returning to training with Barcelona, the Frenchman picked up an injury in his right ankle and this forced him to miss the Catalan club's next fixture against Athletic Bilbao.
"Jérémy Mathieu is having trouble with his right ankle and will miss the Wednesday training session. The evolution of the injury will determine his availability for the rest of the week," read a statement in Barcelona's official website.