A female leopard strayed into Wonderla Amusement Park Bangalore, one of the biggest amusement parks in the IT city, and caused panic among the visitors on Wednesday afternoon.
The leopard entered the compound of the amusement park after escaping a forest fire. The feline creature took refuge in the Ghost House of the amusement park before it was finally tranquilized by a few personnel from the forest department and Bannerghatta National Park, The New Indian Express reported.
Locals said that the three-year-old leopard may have scaled a wall near the dry-and-wet roller coaster rides. As the news spread, fear and anxiety spread in the amusement park staff and visitors and the forest department was immediately informed.
"Visitors were quickly shifted to safe zones, and the fact that it was a weekday helped as the crowd was less," Wonderla general manager HS Rudresh was quoted as saying by The Times of India.
The leopard first entered the Ghost House at around 3 pm. Interestingly, the visitors mistook the animal as one of the items kept inside the Ghost House to scare people. It was later spotted near the Termite Coaster and the area was immediately evacuated. The leopard, which was also scared owing to the ruckus around her, hid inside the Termite Coaster.
Around 30 men threw a net on the animal to keep it from escaping and then tranquilized her.
The officials also added that a fire in the forest area opposite Wonderla must have triggered fear in the animal, thus causing it to take refuge in the park. Moreover, the area around the park has many stray dogs, which are often hunted by the leopards.
Man-animal conflict
Meanwhile, a wildlife expert has said that the frequency of such incidents may soon increase as the amusement park and the nearby roads have been built in an area, which was previously a forest.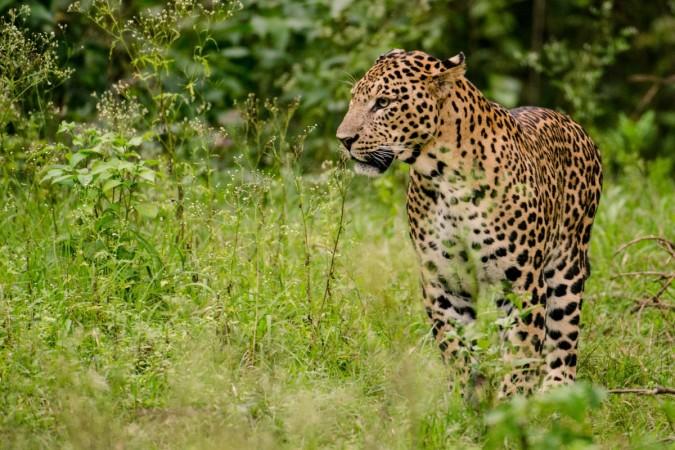 "We have cut off the movement of leopards and other wildlife near Bengaluru by the construction of NICE Road and so, they are now being sighted openly with no place to hide. In fact, with summer approaching, more animals will be sighted," Prasanna Kumar A, a wildlife warden, was quoted as saying by the New Indian Express.
He also added that the area used to be connected to Manchinbele, Turahalli and Bannerghatta National Park and is, therefore, hindering the movement of wild animals.
"If we take away their habitat, they will be visible often. Last week, a leopard was seen at Bangalore University again," Kumar explained.