The domestic equity market opened higher on Tuesday, extending yesterday's gains. Sensex opened above the crucial 61,100 level and Nifty opened above the 18,150 level.
The BSE Sensex opened at 61,122 points, up nearly 200 points from the previous close; meanwhile, NSE Nifty began trading 65 points higher to 18,183 points and Nifty Bank opened very close to the 43,000 mark.
As of 1:15 PM, frontline indices are trading close to the previous close. Sensex is trading at 61,022 points, up 80 points or 0.13%, whereas Nifty is up merely 12 points or 0.05% to trade at 18,130 points. However, Nifty Bank turned red intra-day as it lost almost 50 points or 0.13% to trade at 42,766 points.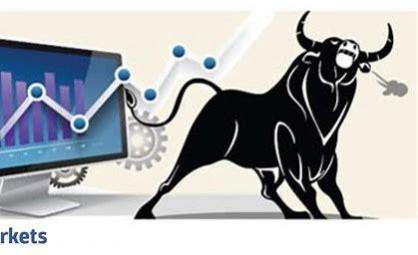 Commenting on a broader market outlook, Dr. V K Vijayakumar, Chief Investment Strategist at Geojit Financial Services, said, "A significant trend in the global equity market now is the outperformance of the mother market US. Hope of a soft landing for the US economy is increasing and the market is responding to this. The S&P 500 is up by 5.12 percent in January till date. The tech heavy Nasdaq is up by 8.5 percent and this particularly is good news for Indian IT companies, which are likely to do well now."
"The positive sentiments are favorable for a pre-budget rally, too. The ongoing momentum has the potential to break the 17800-18200 range on the upside. The stellar performance of the banking segment stands out in this Q3 results season. Remain invested in banking stocks, particularly the high quality names, in spite of the run up in prices." He added.

Wall Street rallied on Tuesday as the market contemplated a smaller rate hike by the fed in the next monetary policy meeting. The Dow climbed nearly 250 points or 0.76%, while S&P 500 gained 47 points or 1.19% and Nasdaq jumped 223 points or 2% on Tuesday.
Jonathan Krinsky, BTIG's chief market technician, wrote, "Bulls are running with the near-term momentum, the 'soft landing' narrative, and it's hard to argue with recent price action." Expressing his skepticism, he added, "On the other hand, long-term trends are still somewhat bearish, and we are always skeptical of such a widely watched 'breakout,' especially after big run."