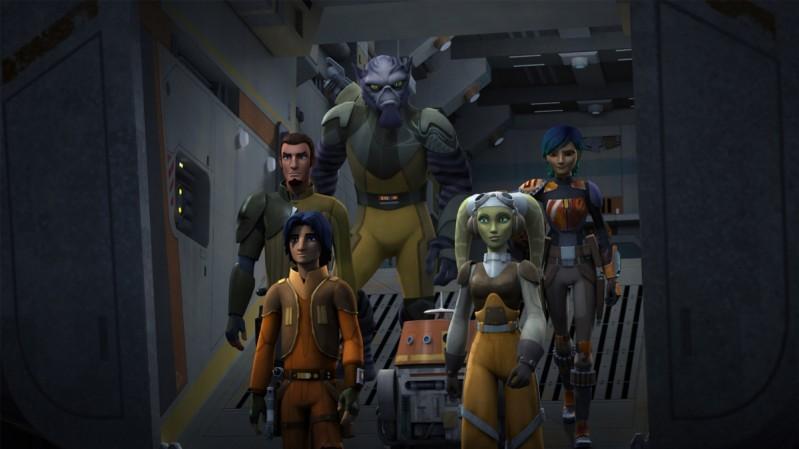 Star Wars Rebels will be reprieved after a long time when the new episode will air on November 19 along with Grand Admiral Thrawn.
In Star Wars Rebels season 3 episode 8 titled Iron Squadron, the rebels will be facing their formidable enemy from the Empire, Grand Admiral Thrawn, as he comes back in the coming episode. Iron Squadron is a group of young pilots who will come face-to-face with Ghost's crew.
According to a report of Coming Soon, Ghost crew will be establishing a secret base in Atollon, and there, the troop of rebels will be replenishing their resources as they plan to clash the Empire.
As of now two promo clips have been released for the episode 8 of season 3, the first one features Grand Admiral Thrawn taking over one of the command centres for the Empire, whilst the other shows Ezra, Sabine and Hera trying to aid a 'freighter' as it is chased by an Imperial transport and four TIE Fighters. Moving along, these three Ghost crew members try to fathom what the Corellian ship is trying to do given that it is not jumping into light speed until suddenly communication from the said mysterious ship comes in via the voice of a young and confident man.
Every Star Wars fan is presumed to be excited as Star Wars Rebels season 3 episode 8 will give a glimpse of Han Solo's spacecraft.
Star Wars Rebels was on a break during the Halloween season and came back on November 5 with episode 7 titled Imperial Supercommandos. In that episode, Ezra and Sabine were pinned down by a force of Imperial Mandalorians.
Star Wars Rebels season 3 airs every Thursday, 8:30 p.m. on Disney XD but Iron Squadron will be back next week November 19.