Star Wars: Episode VIII - The Last Jedi has been hit with another major online leak and it hints at the introduction of a new lightsaber, which could be used by villainous character Supreme Leader Snoke.
An image featuring the list of Star Wars products that will make its way to a GameStop store in September has been leaked online. It features two toy figures with code-name Victor and has a lot of similarities with Andy Serkis' character.
"The so-called Victor is very likely to be Snoke. What gives us reason to think that it is Snoke is because in one of the two figures that this character will have that it will include a throne, and we've seen no one but Snoke we sit on a throne in the Sequel Trilogy," stated a fansite called Star Wars News Net.
Also read: Star Wars Day: Governments have most fun; fans hope for Queen's special message
The online portal also claimed that the mysterious leader of the First Order could be using a lightsaber in Star Wars: Episode VIII - The Last Jedi, as the toy figure is seen holding a lightsaber. "If Victor is indeed Snoke, then the villain possesses a lightsaber of his own," stated the website.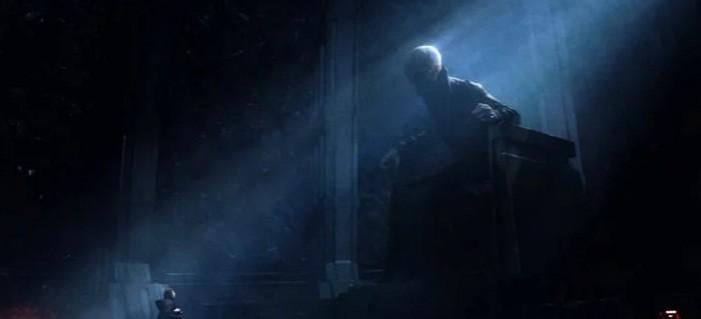 The leaked list of Star Wars products that made its way online also features two other toy figures code-named Cool Beta and Foxtrot. While Cool Beta is speculated to be something related to The Jedi Master Luke Skywalker, Foxtrot is expected to be a few of the Knights of Ren.
Here is the complete list of Black Series Star Wars Toys that has been leaked online:

55187081 SW E8 FX FOXTROT 1 BLUE LIGHTSABER
55187088 SW E8 DC VICTOR GUARD AND TANGO RED
SW E8 Deluxe Figure 2-Pack – 5010993364367
SW E8 RP Electronic Lightsaber – 5010993370344
SW E8 Electronic Mask – 5010993370207
SW E8 RP Extendable Lightsaber – 5010993364220
SW E8 3.75″ SWU Figure Collection 1 – 5010993364442
SW E8 3.75″ SWU Figure Collection 2 – 5010993364510
SW E8 Hero Series Figure W1 – 5010993370863
SW E8 Hero Series Figure W2 – 5010993447046
RP Mask – 5010993370429
Lightsaber – 5010993370504
Lightsaber – 5010993372874
Starter Set F – 5010993372966
Starter Set I – 5010993426515
Starter Set D – 5010993372942
Vehicle Class A – 5010993370757
Vehicle Class B – 5010993370818
Vehicle Class C – 5010993364282
Vehicle Class D – 5010993364305
Victor Deluxe Lightsaber – 5010993370443
SW E8 Figures 30cm – 5010993435203
SW E8 IP Beak (Electronic Plush) – 5010993380640
IP Smart Delta 2 – 5010993370269
Jedi Knight Lightsaber – 5010993371655
Hot Wheels Millennium Falcon Playset – 0887961385328
Extendable Lightsaber RP Victor 1 – 5010993370528