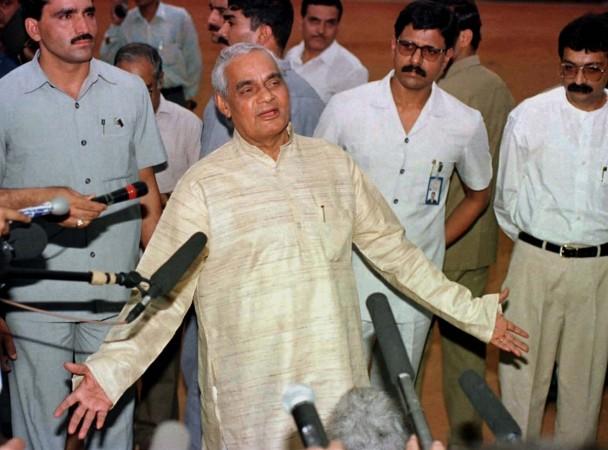 Filmmaker SS Rajamouli, Jr NTR, Vishnu Manchu and several other Telugu celebrities condoled the death of former Prime Minister Atal Bihari Vajpayee.
Bharat Ratna Atal Bihari Vajpayee, who was admitted to AIIMS with a kidney tract infection and chest congestion on June 11, passed away at 5 pm on Thursday, August 16. Many celebrities admired the 93-year-old BJP leader and took to Twitter to mourn his death. Here are the tweets.
SS Rajamouli: One of the few statesman who brought dignity and esteem to politics. His dream and steadfast application of Road connectivity changed and continues to change millions of lives in our country. Bowing with respect to our beloved leader #AtalBihariVajpayee ji.
Jr NTR: Salute to one of the greatest leaders ever,to lead our country. A peerless statesman,a bold nationalist and a man whose vision for a well connected India gave us the Golden Quadrilateral. Atal ji will live on forever in our hearts #RIPAtalBihariVajpayee
Rana Daggubati: Today we lost a great statesman, poet and orator. A man who dreamed of a glorious nation and strived to take us on the path to prosperity. Rest in Peace #AtalBihariVajpayee ji.
KTR: A leader in the true sense of the word, an orator par excellence, a man admired across party lines & a true statesman passed away today #AtalBihariVajpayee Ji will be remembered by future generations for making our nation stronger Rest in peace Atal Ji
Gautami: Atalji. A Great statesman, poet & humanbeing of integrity. A true Indian leader & politician-his immortal legacy is a guiding light and I'm blessed to have been led by his Inspiration in service of our Nation. May his soul Rest in Peace
Allari Naresh: One of India's tallest politicians and renowned poets is no more. RIP #AtalBehariVajpayee Ji, your demise is a loss to the entire nation.
Vishnu Manchu: My favorite politician, an honest one, and the only hero I looked up to in politics, Sri Vajpayee is no more. But he leaves behind a legacy which can only be envied. No one can match his charm. #AtalBihariVajpayee
Eesha Rebba: Saddened by the news that, The great Statesman and India's best Prime Mister is no more. May his soul rest in peace #Respect #AtalBihariVaajpayee #ripvajpayee
Director Maruthi Dasari: We lost a great visionary leader #AtalBihariVaajpayee Garu. Loss cannot be expressed in words. Due to his sudden demise we are postponing our #ShailajaReddyAlludu 2nd single release now. It gonna release tomorrow .
BVS Ravi: One of the greatest statesmen of the nation, #AtalBihariVaajpayee ji leaves behind a hill of history in Indian politics&governance and has set a great bench mark for commitment of service towards the country. #RIPAtalBihariVaajpayee
Suresh Productions: You will be etched in our hearts forever. May your soul rest in peace. #RIPVajpayee In this time of National mourning, we have decided to cancel the live interaction with the Director of #CareofKancharapalem. We will schedule it another day. May Mr #AtalBihariVajpayee's soul Rest in Peace.