After Sridevi's death, Arjun Kapoor and Anshula Kapoor have been two pillars of strength to their step-siblings and late actress' children, Janhvi Kapoor and Khushi Kapoor, during the trying times. Arjun and Anshula are from Boney Kapoor's first marriage with Mona Shourie Kapoor.
Recently, Anshula blasted a troll who said nasty and abusive things about Janhvi and Khushi on social media. However, Anshula has now apologized to the troll who badmouthed her stepsisters. She said she didn't intend to cause harm to the user and eventually make it a news.
For the uninitiated, it all happened after Anshula shared some words of wisdom on her Instagram after her father Boney Kapoor, along with daughters Janhvi and Khushi, immersed Sridevi's ashes in Rameswaram on Sunday (March 4).
However, apart from condolences messages, Anshula also received some hate comments which were targetted toward her stepsisters Janhvi and Khushi.
This didn't go down well with Anshula who deleted the comments and asked the trolls to refrain from using abusive language toward her sisters.
Anshula's befitting reply put the troll in hot water as he got brutally slammed by other users on Instagram for his comments. Perturbed by the entire episode, the user replied to Anshula to clarify his intentions toward her and her brother Arjun Kapoor as he is an ardent fan of the actor.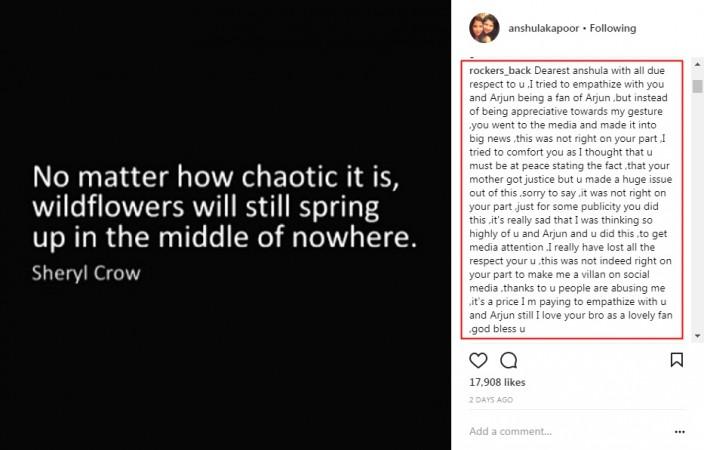 Upon reading his clarification, Anshula replied to the user and humbly apologized to him.
"Thank you for understanding and apologizing, no harm no foul! And once again, thank you for your love for bhai.. and my intention wasn't to call out to you maliciously, and I didn't intend for this to become "news"! = sorry In advance if this calls out unnecessary attention towards you. God speed," she wrote.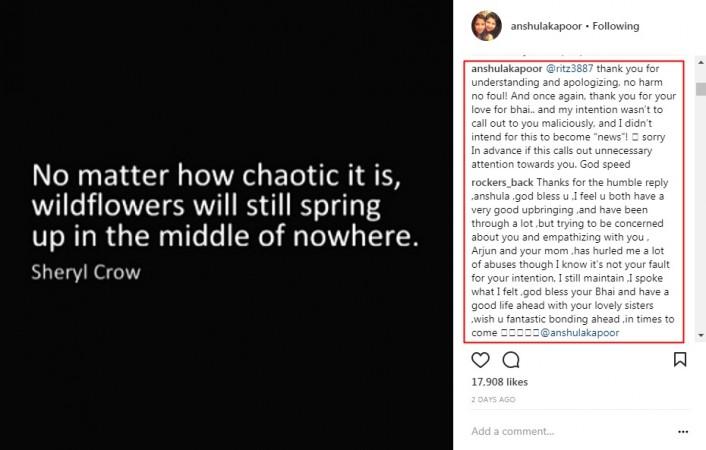 The user appreciated and accepted her apology and wished Anshula and Arjun a good bonding with Janhvi and Khushi.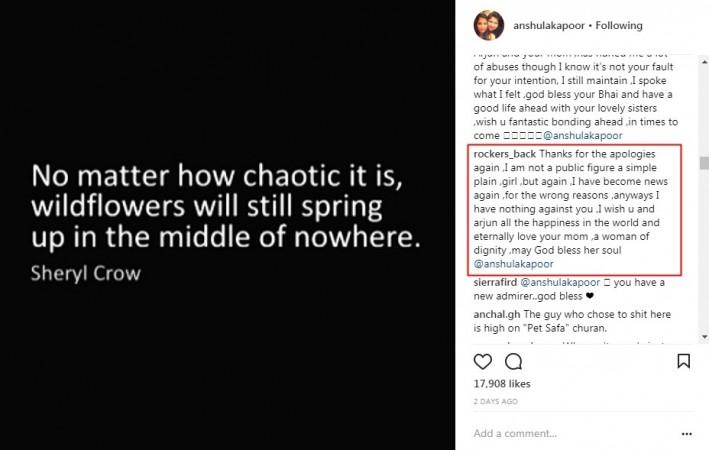 Last night, on March 6, Anshula celebrated Janvhi's 21st birthday along with Khushi Kapoor, Sonam Kapoor, Rhea Kapoor and Sanjay Kapoor's daughter Shanaya Kapoor.