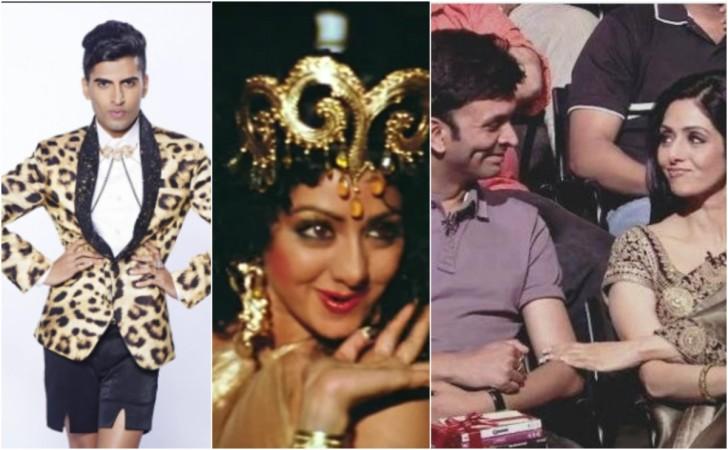 Sridevi's untimely death on January 25 in Dubai due to cardiac arrest has not only left a void in the Bollywood industry but also affected her fans in the LGBT ( lesbian, gay, bisexual, and transgender) community.
Her style, persona, costumes, songs and the overall look was an inspiration for many in the gay community. But her sudden death has come as a shock for everyone. One of them is Sushant Divgikar — an Indian model, actor, performer, singer and video jockey who appears in television shows and films. In July 2014, he was crowned Mr Gay India 2014.
Gay men had some serious love for #Sridevi. She helped to find most of them their true-self! She was the epitome of self expression.

— Nakshatra Bagwe (@NakshatraBagwe) February 25, 2018
Talking to IBTimes India, Sushant said: "I know a lot of people who are Sridevi fans. Like my ultimate diva is Rekha, I draw inspiration from her. To celebrate the body of work that Sridevi has given us, we plan to do a Sridevi tribute. She has done such diverse roles. Her most famous is Hawa Hawai. I would love to do a performance based on that era, or for that matter even from Chaalbaaz (1989). She was very fashion forward and a good looking woman. She was way ahead of her time."
To know that she was my idol all along (and will be) is enough. She was a beacon of hope for so many gay kids growing up in the 90s, wanting to be Chandni or relating to Pooja's angst or pining like Benazir. An icon that was larger than life. An icon who made life come alive.

— Vivek Tejuja (@vivekisms) February 25, 2018
"She pushed the envelope for trying new things that other women didn't take up. So, I believe she is a pioneer in Bollywood. She is a big hit in the gay community. He biggest fan is Harish Iyer from our community. Like I worship Rekha, for Harish, Sridevi was God. He drew inspiration from her when he was young and was going through a traumatic phase."
For the uninitiated, Harish Iyer is an activist for a number of causes, including promoting the rights of the LGBT community, children, women, animals, and survivors of child sexual abuse.
I am so sad that Sridevi passed away. She was a gay Icon. She was like Lady Gaga, Princes Diana for Indian LGBT Community. Indeed a massive loss for Indian LGBT community. #RIPSridevi

— Agitated Guy (@Agitated_Guy) February 24, 2018
IBTimes India spoke to Harish about Sridevi's influence on his life. He said: "I've been knowing Sridevi right from my womb because my mother used to sing 'My heart is beating' as a lullaby from Julie film. Sridevi has a blink and miss role in that film and we used to watch the entire thing just to see Sridevi. Right from that time, I know Sridevi. I have grown up listening to her name and stories. I come from a South Indian family and she was a star of the house because of her work in Tamil and Malayalam films. When I was young, I was going through child sexual abuse. I was raped at 7 years of age was raped till I was 18. And all these years I used to watch Sridevi's films and get inspired. All her characters were women oriented and empowering."
"I met Sridevi at Satyamev Jayate when Aamir Khan called me. I literally touched her because I couldn't believe I was meeting her. And it is the same feeling right now, I want someone to pinch me and tell me that her death is a bad dream."

"In that age, she was doing things that were so flamboyant — her costumes and looks — our community really connected with that because they were in that closet. They used to live their fantasies through Sridevi. She set the bar for a 'divas'. She has got some amazing songs and I will definitely do a tribute on Sridevi in April," concluded Sushant.
Sridevi's femininity, her portrayal of characters was what many members of the queer community relate to her.