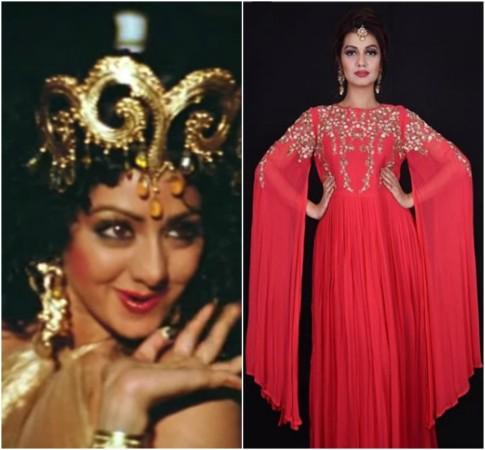 Sridevi is a school in herself. The veteran actress, who passed away on February 24, was an inspiration to many young and aspiring actors.
One of them is Splitsvilla fame Divya Agarwal, who shared that she danced on Hawa Hawai and many other Sridevi's classic numbers during her school days.
Divya recently gave a speech at TEDxMMUSadopur, Ambala in Haryana. Her topic was 'Life of a public figure'. Doesn't this topic remind you of what happened to Sridevi after her death?
Being a celebrity is not easy and that brings in a lot of pressure along with the tag 'celebrity/public figure'. The insensitive trolls said things for Sridevi too. One user wrote: "It's sad to see how we set parameters of beauty for a Women and how a Women as beautiful and #Successful as #Sridevi is also pressurised to keep at par with #BeautyStandards constant pressure of looking younger than her real age and maintaining #SizeZero was #SrideviDeathTwist [sic]."
Divya too touched upon the same issue and said: "Bullying has become a trend nowadays. And I don't get that. People from any and every walk of life today have social media access. And they think it's their birthright to have an opinion especially negative with respect to a public figure. They don't understand that it's difficult and harsh to cope up with. In the last decade, bullying has taken on some grave and legal connotations in the wake of high profile cases and it's a very serious issue to be dealt with."
In the case of Sridevi's death too, media and fans have literally bullied and made a mockery out of Sridevi's death.
Divya said that people currently are probably feeling powerful in demeaning Sridevi. "I personally feel that not only web but also media can be really harsh in today's time and it's worth putting your thought in and stop it before it becomes worse."
Divya goes on to talk about how she gets trolled. She said: "I was very happy to see myself growing and doing what I have always wanted and loved to do. But then I came across a fiery wave of unwanted response and reaction of people who didn't like me for who I am. And the language they choose is so derogatory that it shook me to the core. I was hurt deeply and saddened and at one point doubted myself. It made me unhappy and depressed."
Divya who made it a point to watch Sridevi's movies with her mother every time is shocked to know that the legendary actress is no more with us. "She will always be my and many others' inspiration and mecca of talent," concluded Divya.