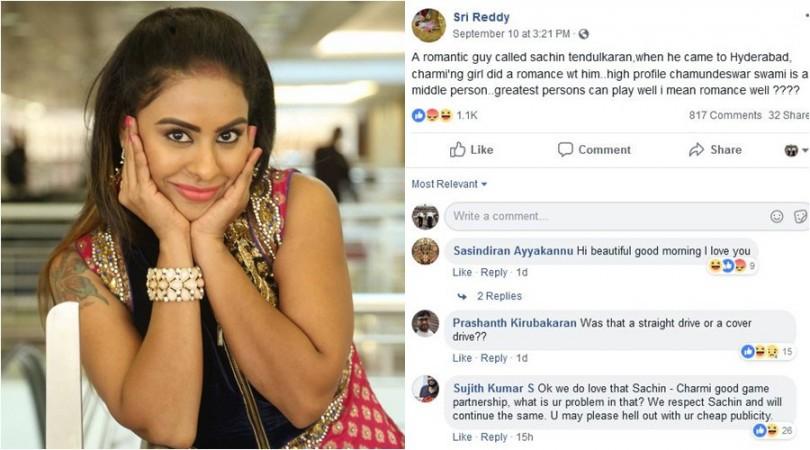 The fans of Sachin Tendulkar have condemned controversial actress Sri Reddy for her sensational comment on his alleged romance with Charmi'ng girl in Hyderabad. They call it a cheap publicity stunt.
Sri Reddy kicked up a storm in the south Indian film industry through her controversial comments on some celebs including Nani and Raghava Lawrence. Many in the industry felt relieved after she kept silent for some time. Now, she is back in the news again through another sensational comment.
The actress took to her Facebook account on September 10 and wrote, "A romantic guy called sachin tendulkaran,when he came to Hyderabad, charmi'ng girl did a romance wt him..high profile chamundeswar swami is a middle person..greatest persons can play well i mean romance well ????"
It is known that Sachin Tendulkar is a non-controversial person and he is considered as god of cricket. Now, Sri Reddy has made a very controversial comment without any proof. Her remarks have deeply hurt the cricketer's fans, who responded to her and condemned her for misusing his name for her publicity. Some of them said that they had sympathy for her, but she lost it with this comment.
Abhijith M Anandhan: Many Indian actors were brought to controversies. At that time it was felt that there might be some reality in that.You lost all your respect today. Dont you feel embarassed to say that you are a girl. Sachin has not only been the god of cricket but also an inspiration for almost 3 generations. How dare you derogate such a great personality having no blotch to his image till date. You'll be beaten up blue n black if someone hears this.
Sujith Kumar: S Ok we do love that Sachin - Charmi good game partnership, what is ur problem in that? We respect Sachin and will continue the same. U may please hell out with ur cheap publicity.
Akhil Satheesh: Your literacy, cheap publicity mindset and upbringing are equal condemned. Well culture is a rare quality and integrity is too much to of a quality to be anticipated these days.... May your brain RIP.
Prasinlal P P Puthiyapurail: U can say anything about any one that's u r wish but dont say any words about our dear sachin. He is living in our heart. U don't know the value of him. We people keeping his photo in our prayer room that much we r loving him. So pls dlt the post. Again don't touch sachin. Last but not least he adopted one village in u r state go and see that village now yet u r blaming him for cheap publicity shame on u madam if u r s true indian u can't say this kind of word about sachin so pls leave him.
DRpictography: Srireddy has crossed her all limits now by commenting on God of Cricket...she is mentally ill , the Facebook admin should actually block her ID...she doesn't fit in to be on FB...we all know what kind of person Sachin is, he has earned the name because of his character more than his game...so whatever srireddy says doesn't matter... srireddy just go to hell...
Christy Sebastian Arackal; Doesnt even know how to write and convey the language properly.. Yet try to deliver your cheapest thoughts by centering Sachin Tendulkar.. Feel sad for your unbalanced mind set.. How you can consider yourself as a girld.. Dont u feel ashamed?? Feel sad for your parents and pity on your state of mind... Try to understand the real beauty of being a 'women'.. Atleast try not to esatblish a distress model to other girls