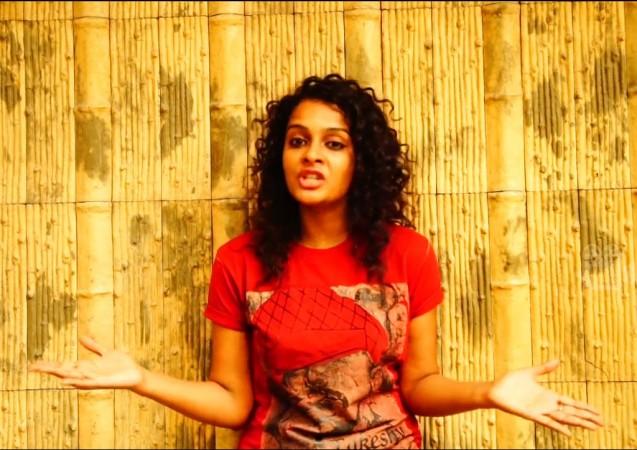 Actress Sonia Deepti released a short film on her YouTube channel a day before International Women's Day and the video questioning moral policing has won the heart of Amitabh Bachchan and Ram Gopal Varma.
Megha Wali has penned the script for the short film, which advocates the wayward life of a girl, who spends her time drinking, smoking, browsing porn sites, chatting and hanging out with boys in club and park. It has been shot at Country Club in Hyderabad. Daya Nand and Karthik Sabareesh have handled the camera work, while Yuva Kiran edited it.
The 2:34 minute video, which has been produced by Sadhvi Virkar and Megha Wali, features Sonia Deepti as a tomboy. Srikanth Raghava, M Sameer, Sadhvi Virkar, Kushalpreeth, SaiPriyatham, Sumanth and Adhvaith Akhil are also seen with her in the short film.
"We women have the right to celebrate to our curiosities as well. Just because we are experimenting something that is classically unconventional does not mean that we are asking to be judged. We women follow our dreams. We women can have an opinion. We women can live it up. We women can do everything we want. But we are still not asking for it. If you believe that we are not asking for it, like subscribe and share," says Sonia Deepti at the end of the short film.
Ace filmmaker Ram Gopal Varma was the first celebrity to be bowled over by Sonia Deepti's video. Sharing the video, he tweeted, "Most beautiful statement ever from a woman about women.. all those repressed politicians nd moral upholders shud see. Woman shud hv as much freedom as a man to live life the way she wants to live .I luv this short for depicting that."
Amitabh Bachchan was another star to like the video. The Bollywood Megastar also posted the YouTube link to Sonia Deepti's video and wrote, "T 1784 - A friend sent me this short reflection:"
The video has description that reads, "For all the 'guardians' of 'Indian culture', who think that women should stay at home, here's a must-watch."
Released on 7 March, the short film has been viewed more than 58,000 people on YouTube in four days. It has got 647 thumbs-up, 117 thumbs-down and over 65 comments from the viewers.
Watch the shortfilm below: