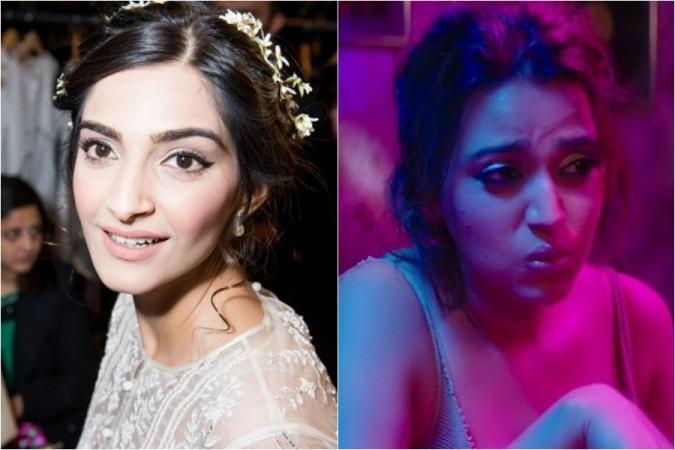 Swara Bhasker and trolls always go hand-in-hand. Trolls never leave a chance to slam Swara on various issues, while the actress loves hitting back at them on social media. She is currently facing backlash over her infamous masturbation scene in her recently released film Veere Di Wedding and has left Twitter debating. Even Pakistani actors Urwa Hocane and Gohar Rasheed have slammed Swara for her contradictory statements and calling Pakistan a "failing state".
While Swara has been dealing with trolls in her own way on social media, her friend Sonam Kapoor has now jumped into her defence and gave her two cents on the matter.
"I think people just like to troll her because she has an opinion & a point of view & I guess that shows how much they love her because the other side of hate is always love, so Swara you have a lot of lovers," Sonam Kapoor was quoted saying by ANI when asked about her opinion on her co-star Swara Bhasker getting trolled on social media.
But Twitter users were not satisfied with her opinion. They called her the new Uday Chopra of Bollywood for having zero IQ and started replying with hilarious responses. Some people also slammed her and said that they are also expressing their own opinion like her and asked her to respect that. Take a look.
"Uday chopra ki hawa lag gyi hai isko bhi jus cz of der gifted surname dey can utter any shit dey want!! Dumb Bollytards," a user commented.
Uday chopra ki hawa lag gyi hai isko bhi jus cz of der gifted surname dey can utter any shit dey want!! Dumb Bollytards

— Aarohi Tripathy (@aarohi_vns) June 4, 2018
If swara in the movie couldn't act rich, sonam in real life always fails with common sense — Ajanubahu (@BhrgaShri) June 4, 2018
— Aנαу_Ɗєνgη_ƑƇ™ (@Ajay_Devgn_FC) June 4, 2018
ऐसे होते हैं दोस्त, तुम चाहे कितने भी घटिया लग लो वो यही कहेंगे "भाई, क्या लग रहे हो" । — King Of Good Times (@Kingofgoodtyms) June 4, 2018
As per her logic #RahulGandhi has the strongest votebase in India.

— Dhruv Tyagi (@DhruvDt) June 4, 2018
To log bhi apna opinion hi dete hain baudam ji Aap bolo to opinion Log bole to trolling — Dexter (@MunnaKaTunna) June 4, 2018
@sonamakapoor we are not in mood for ur fancy bollywood style words that other side is love.. Go mastrubate if u still unsatisfied

— Ansuman Bhujabal (@anshucool2) June 4, 2018
Kuchh logon ko udta teer lene ki aadat hoti hai. Mohtarma bhi unme se ek hai. — HELL YEAH (@the_muskmelon) June 4, 2018
What a logik means kongressi loves Modi .. BJP loves RaGa

— Ruhaniika (@PRiShaw19) June 4, 2018
What a logic. Eye opener. If she gave IIT Entrance she would have topped for all eternity to come. — Seemanshu (@Seemanshut) June 4, 2018
Again path breaking, ye sare imag see paidal ek hi movie lene the kya.

— Sumit Gautam (@SumitGa1993) June 5, 2018
RIP logic. as expected. — akshay tyagi (@Akshayshankey) June 4, 2018
They are not trolls. They too are expressing their opinions. Respect that

— ProudIndian (@go_ramakrishna) June 5, 2018
Logic @sonamakapoor pic.twitter.com/9fWSryfykf — Rutambh (@rutambhtrivedi) June 4, 2018