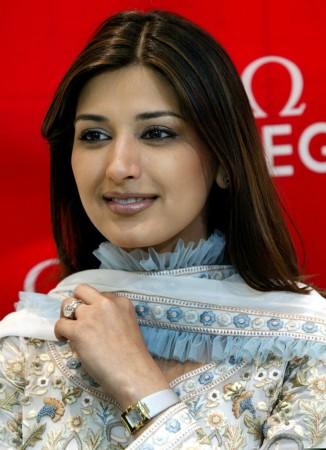 Actress Sonali Bendre is all set to make her Bollywood comeback with a big role in Milan Luthria's much-awaited movie which is releasing next year.
Earlier in June, the actress was rumored to have opted out as a judge on the fourth season of "India's Got Talent" and will star in the gangster sequel "Once Upon a Time In Mumbaai 2". Later, both Bendre and Luthria confirmed that she has been roped in as one of the lead characters for the movie.
"I am thrilled to add another twist to the casting of 'Once Upon A Time In Mumbai-2' Sonali is a gorgeous looker, a competent actor and suits the role to the T. My crew and I are super excited to offer her this film!!!" Lutharia said.
The upcoming sequel to Balaji Motion Pictures' "Once Upon A Time In Mumbaai" is set to hit the screen in 2013 and will feature Akshay Kumar, Sonakshi Sinha and Imran Khan in the lead roles.
Bendre will portray the role of Mumtaz, who is connected to the character played by Akshay in the movie.
"Sonali is playing the role of Mumtaz. The name spells enigma and is very crucial to the plot of the film. The character doesn't fit into the usual mould of a mother or a sister or bhabhi but has an identity of its own. That is what makes it special. And that's why Sonali agreed to be a part of the film," director Luthria said.
According to sources, Luthria and Bendre are quite keen to work with each other, and the actress agreed on doing the film in their first meeting itself.
"I will be part of 'Once Upon a Time in Mumbai 2'. It's a great role. With the film it feels like I'm coming home since Shobha Kapoor has been Goldie's very close family friend. Also, Ekta Kapoor is a creative genius and has an amazing story sense so I trust her judgment on this," Bendre said.
"I have worked with Milan before...so it's very comfortable space. Akshay and I too have worked together before. I have worked with some uncomfortable people in the past and I did not wish to repeat that," Sonali said.
The 37-year-old actress took a break from Bollywood post marriage to director and producer Goldie Bhel.
Her last Hindi movie was Nikhil Advani's "Kal Ho Naa" Ho in 2003, where she essayed the role of a doctor named Priya.