After three days of stalemate over Hindenburg-Adani row, the Parliament eventually witnessed a heated discussion on the President's speech on Tuesday. On Wednesday, the budget session of the Parliament resumed with the clamour for PM Modi's reply to the debate on the Motion of Thanks still running high. Earlier throughout the week, BJP-led Centre has been accused of being afraid to take up discussion on Adani row.
PM Modi's reply
Cornered by the Opposition, PM Modi began his speech in the Lok Sabha by thanking the President of India. After a long part of his speech mentioned the President's speech on Tuesday, PM Modi launched veiled attacks on the Opposition, specifically Rahul Gandhi.
"The entire ecosystem is jumping after yesterday's speech," he said.
Mentions Covid vaccine, India's future
Talking about India's development and success, Prime Minister Modi said that technology had advanced to the next level and digital payments have made it possible to transfer even huge amounts instantly. He also said that India has a bright future and the entire world looks at India with hope and awe.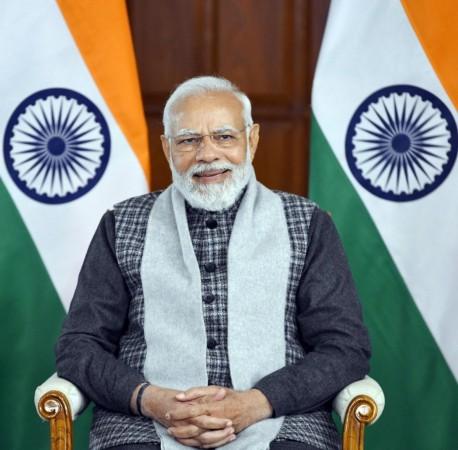 "The entire world sees their success in India's success." He adds, "In the past nine years, 90,000 start-ups can be credited to India, which is record-high. Today India, in the second biggest nation in mobile manufacturing."
2010 Commonwealth Games
PM Modi continues, "In 2010, CWG were held. It was a huge opportunity for India to showcase its talent and might to the world. But due to the scam, India became infamous and we could not show the strenght of India's talent to the world." He also called some from the Opposition, "drunk in arrogance." "Those who are clouded by arrogance and think that only they have the knowledge, feel that a way will come out only by abusing Modi."
Attack on Congress
Continuing with his speech, PM Modi moves on to launching a few direct attacks on Congress. He said all big universities of the world will conduct case studies on Congress.
"Not just Harvard, all big universities of the world will conduct studies on Congress's downfall." He also said that Enforcement Directorate (ED) has brought all opposition parties together on one platform, and done what the electorate could not do.
In the context of indirect attack on Congress, he also said, "Some people exist for themselves and their families but Modi is living for India. 140 crore people of India are Modi's safety armour."
Referring to the Opposition, he also said, "Indians are succeeding but some people cannot or refuse to see the positives. They are in the depths of despair and refuse to feel happy in India's success."
Walkouts from Parliament
In the midst of the PM's speech, members of the Bharat Rashtra Samithi (BRS), Left parties and a few members of the Congress walked out of the Lok Sabha while raising slogans.
The Opposition attacks
Opposition MPs including Rahul Gandhi, Mallikarjun Kharge, TMC's Mahua Moitra and RJD's Manoj Jha, had resorted to scathing remarks to specific questions and sought a response from the PM earlier. While Rahul Gandhi had cornered the government over the Adani row, Kharge asked pointed questions.
"The wealth of one of the closest friends of PM Modi increased by 13 times in 2.5 years. I don't know what magic happened that his assets touched a 12 lakh crore in just two years," Kharge said in the Upper House.
He continued, "PM Modi promised the country's population of 2 crore, jobs every year. In these 9 years, where are the 18 crore jobs? Leave that, you're not even filling 50 lakh vacancies."