Sizzling Esha Gupta has revealed who her "boyfriend" is. In her recent Instagram stories, the actress shared pictures of fashion designer Nikhil Thampi addressing him as "boyfriend".
In one of the photos, Nikhil is seen hugging Esha from behind. While both looked adorable in the frame, the actress' caption to the picture is very interesting. She captioned it saying, "@nikhilthampi m ready..cmon now [sic]". The text is followed by three emojis – one ring, one laugh and a heart symbol.
The caption suggests Esha saying that she is ready to get engaged to Nikhil. In another instance, the Baadshaho actress shared one of Nikhil's promotional pictures from an event. Here she directly addressed him as boyfriend. "All the best for today boyfriend @nikhilthampi", she captioned it with a heart emoji.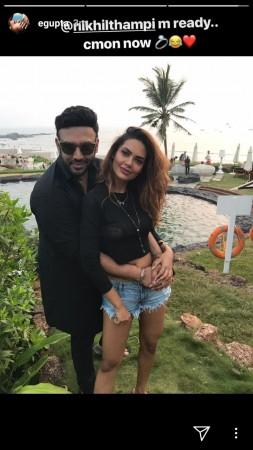 Esha, who is known for sexy photoshoots apart from her movies, had shared another picture of her and Nikhil together some time ago, but it was not clear if she was in a relationship with him.
Sharing a cozy moment in the picture, she had captioned it as, "He asked me to be his valentine.. I said yes cus he's cute.. #bestdateever #bestfriendgoals [sic]."
However, now it's confirmed that she is dating the popular fashion designer.
Earlier, many had thought Esha to be dating an 18-year-old guy after she had wished him for his birthday on Instagram with the caption saying, " Happy 18th to my one n only. My baby boy I love you the most, please always stay this happy child that you are. I've always got your back [sic]."
This caption was accompanied by a picture in which he was seen kissing Esha on her forehead.
While the teenager was apparently Esha's brother, many on social media tried to troll her with nasty comments. However, the bold diva was not someone to take the trolls lightly, and hence she had slammed those calling them "assholes".
"Happy birthday baby... And to all the uneducated dumb dolts.. he's my baby..not my bf you sick minded assholes," she had posted.