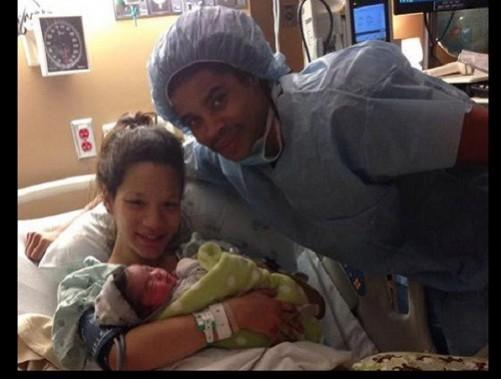 Call it the 'hand of god' or pure 'luck' but it is nothing short of a miracle that a missing six-day old baby, Kayden Powell, survived 'below zero' weather and was found by the police.
Kayden had vanished from his Wisconsin home early on Thursday. On Friday morning, the police found the missing newborn, safe in West Branch at a gas station, wrapped in a blanket inside a plastic bin.
It later came to light that the baby was kidnapped and dumped in the bin by the child's aunt.
The KCRG reported that 'the newborn may have spent approximately 29 hours there. During that time, temps dropped to 11 below zero. Wind chill was 23 below.'
Medical experts say that a child that young could die in minutes if exposed to that kind of weather.
The 7WDAm quoted Dr. Jeffrey Segar, who first examined Kayden after the police hospitalized the child, saying, "I would expect to have found a dead baby, to be honest with you," he further added,"The medical plausibility of that child being outside for over 24 hours in Iowa weather and coming to the hospital with a normal body temperature is truly amazing."
The child also lived not just through cold but also hunger. A medical doctor ,quoted by KCRG, stated: "cold likely wasn't the only concern... normally newborns eat every three to four hours, yet baby Kayden may not have eaten for more than a day."
Miraculously, or call it the prayers of a mother, Kayden overcame the odds and beat death itself. The baby is now safely tucked away in his home in the Town of Beloit, Wisconsin, with the parents.