Bollywood actress Rakul Preet Singh has completed over a decade in the Indian film industry. The actress made her acting debut with the Kannada film, Gilli (2009). After this, she made her Telugu debut with Venkatadri Express (2013) for which Rahul received a Filmfare award for Best Actress – Telugu nominations. Rakul made her big Bollywood debut with Yaariyan in 2014.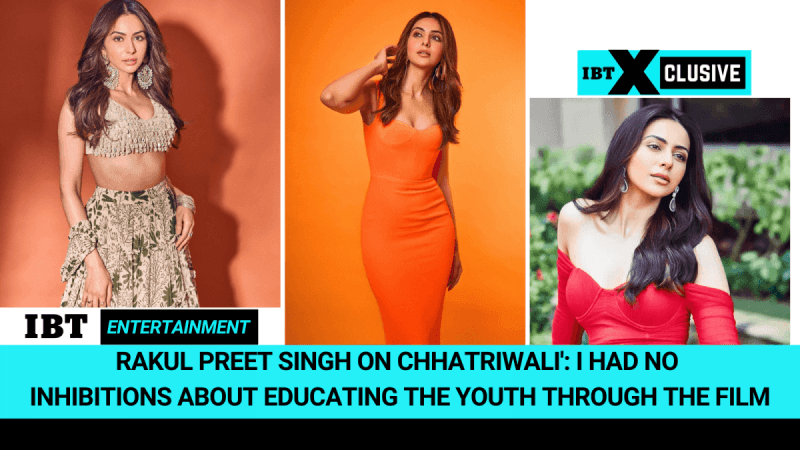 Since then the actress has been part of the Hindi, Telegu, Tamil and Kannada industries and has been entertaining audiences with her stellar performances. Known for choosing unconventional scripts and catering to youth with her, acting prowess. The year 2022, has been quite eventful, as the actress had releases not just in theatres but also on OTT. Last year, Rakul appeared in Cuttputlli, Thank God, Chhatriwali and Doctor G.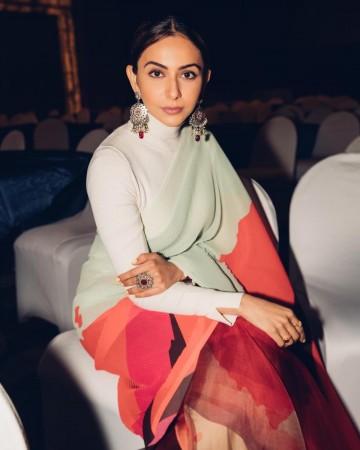 Currently, the effervescent actress Rakul Preet Singh is basking in the success of Chhatriwali which is streaming on Zee 5. In the film, Rakul's character roots sex education in the small town of Karnal. The film has been widely appreciated by critics and fans. The makers and the actress hosted a bash for the resounding success of the film.
International Business Times India, in an exclusive conversation with Rakul Preet Singh, spoke about the importance of safe sex, what are the key things she keeps in mind when she gives a nod to a film, why box office numbers are not the sole parameter to gauge the success of a film and more.
Excerpts from the conversation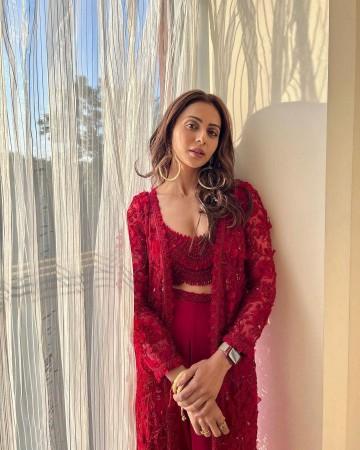 On the success of the film
Rakul Preet Singh is grateful for audience appreciation on 'Chhatriwali', she says, "I feel great that the work is appreciated and most importantly it reached the right audiences that we wanted to reach out to, I have been getting a number of messages on social media, and they are thankful that they can watch this film with their family or partner."
Citing an example, Rakul shares, "Once I got a message from a social media user who said, "I could show it to my partner, as I was having pills."
On what parameters does she choose scripts?
"For me, I will take up films or projects that I can watch with my parents. Working on a subject that is taboo oriented is not an issue, how you handle it is what matters. Talking about Chhatriwali it's a sensitive topic and it needed to be handled with care. My biggest thought process is I should be able to celebrate my film with my family. Showing sex on-screen, and talking about sex education are two different things and I may not believe in the first unless it's really needed, required for a film. I don't belong to that school of thought where such explicitly on-screen is required."
She continues further, "Talking about safe sex is important and I had no inhibitions about educating the youth through the film 'Chhatriwali'. Before giving a nod to the script, I discussed it with my family and they said, 'great'.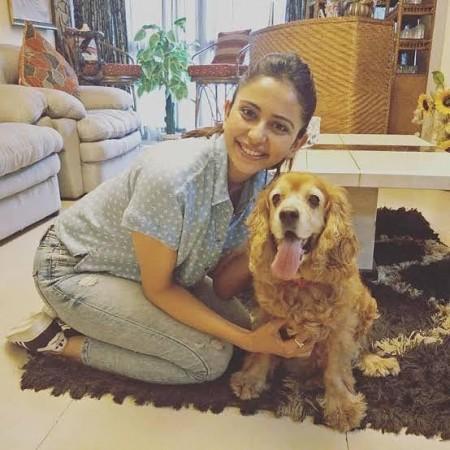 After months of dry spell, Bollywood saw three films with soaring box office numbers, as well as films on OTT, which have been appreciated well
"I feel that the last six months have given three blockbusters of that scale. Everyone celebrated Drishyam 2, Brahmāstra: Part One – Shiva and the recently released film Pathaan. There is no competition, no newer actor or for that matter, no one will compete with SRK's blockbuster. Every film has its audience. And it's great that the industry itself is doing good. Competition should always be healthy, it makes you push harder, it helps you to make great content, and that's where our job stops. We should not look at the money. Money shouldn't be the ultimate goal to decide whether the film is good or bad. There are various factors that play a key role in deciding a film's success."
She continues, "It's also the timing, whether the audiences can afford. It's not solely dependent on the content, like for instance, An Action Hero or Doctor G, they were given great credibility but there is timing. There is also money involved. Not every week a film like Pathaan will release, or made a film at a grand scale. There is affordability that's of prime impotence. The world has just survived a pandemic, people are saving money, do you think a middle class can spend Rs 5000-6000 to make a film a success? There was a huge load of films from the pandemic that had to be released, therefore the release of films was happening. We should just look at the positives and forget what happened in the past. It's a great boost that films are working. There is no denying that theatres are magical and films made with the right heart will be celebrated. Audiences have come out in large numbers and showered love for Pathaan, it will continue."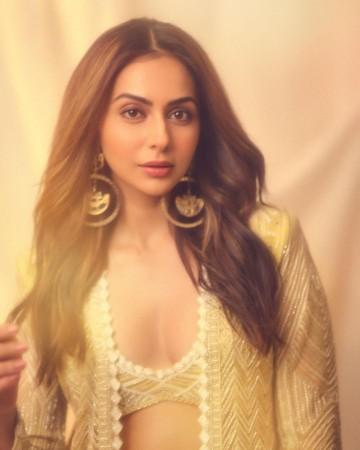 On people's choice of films
"After a week or so, a film will release, and people might not be able to go for whatever circumstances, but that doesn't mean that the film is bad. They might just not have the time or bandwidth or might not afford it for whatever reasons. All I mean to say here is every film should work, and every good film will find its audience through OTT or theatre."
Will Rakul take it slow in 2023?
Rakul had a slew of releases in 2022, with four films, the actress was juggling between shoots and movie promotions, will she take it slower in 2023? Rakul avers, "I will be a little slower this year (2023), the year gone by was hectic for me, promoting 5 films, and shooting. Now I want to take a breather and read scripts. I have two films in Hindi, that will be released this year and two in Tamil. I still have four to five films releasing this year. I will take some time in deciding what I take up next. I can just sum it up by saying that I am very grateful for the love and films I have been part of, but I am not a person who looks back and wastes too much time on it, rather I always think about what the future holds for me. I have almost forgotten that 'Chhatriwali' has been released and now I am busy with my upcoming scripts and currently, I am reading scripts."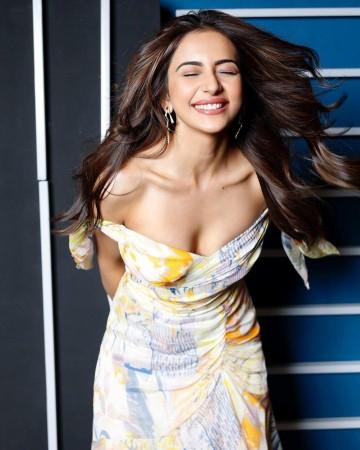 Takeaways from the films that she has been part of
"I don't have any takeaways from the films. Every day you are learning new things, every day you are subconsciously growing, and evolving. In the process of making multiple films you don't even realise what thought has been attached to you or has stayed with you, and really impacted you. A few years back the person that I was I'm not today and five years from now, I won't be what I am today. You are constantly growing, your mind is growing while you keep learning a new skill each day."
What does she binge-watch on OTT?
"I love thrillers. I like shows that keep me engaged. I can't watch slow content on OTT."