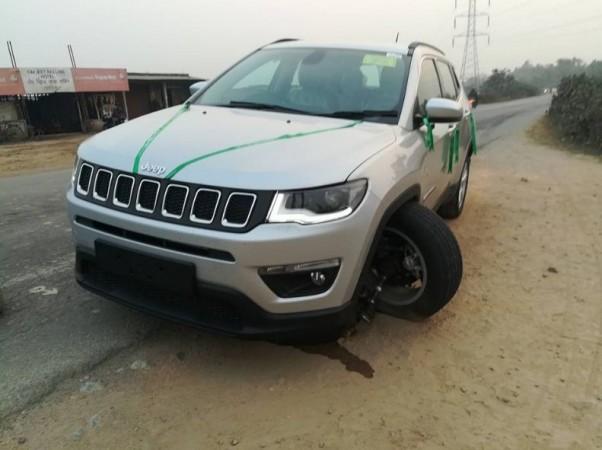 UPDATE: Responding to IBTimes India, FCA said, "The FCA customer service team attended to Phukan as soon as we were informed about the incident and we resolved the issue within 24 hours. We are investigating this incident thoroughly and are not aware of any other instances. Nonetheless, we are immediately reviewing and reinforcing our quality assurance activities to further ensure the quality of our vehicles in the marketplace."
Original Story
The build quality of the recently launched Compass compact SUV from iconic American SUV maker Jeep has come under the radar once again. This follows an incident where the front wheel of a brand new model came off hours after the proud owner took the vehicle from a dealership in Nagaon, Assam.
Jayanta Phukan was driving the new compact SUV after taking delivery from Jeep's Mahesh Motors showroom in Guwahati. Within hours, the car broke down and the passenger side front wheel came off.
"On my way to Duliajan near Nagaon, the car broke down after the co passenger side front wheel with drive shafts came out from the car and I somehow managed to stop the car," wrote Jayanta on his Facebook post. "This is a serious safety issue. Multinational companies are selling such poor quality products in India."
Also read: Automakers and dealerships that kicked up a storm in 2017: From Baleno RS 'no service' to Jeep showroom customer assault
Jayanta Phukan has also shared images of his new Compass with the front wheel that came off.
The shocking incident has left many with unanswered questions about the safety of a model like Compass, which surprisingly rode into the Indian market with much hype on safety features.
While the reason behind the incident is not immediately known, netizens are of the opinion that the incident does not look like a one caused by an external element.
This is not the first time that Jeep has found itself in the news for the wrong reasons. The iconic carmaker had come in for a lot of flak after a video of its Landmark dealership staff assaulting a customer surfaced online. Jeep had conducted an investigation into the incident and later terminated the services of the employees involved in the incident.
Meanwhile, International Business Times India has written to Jeep India and is awaiting their response.