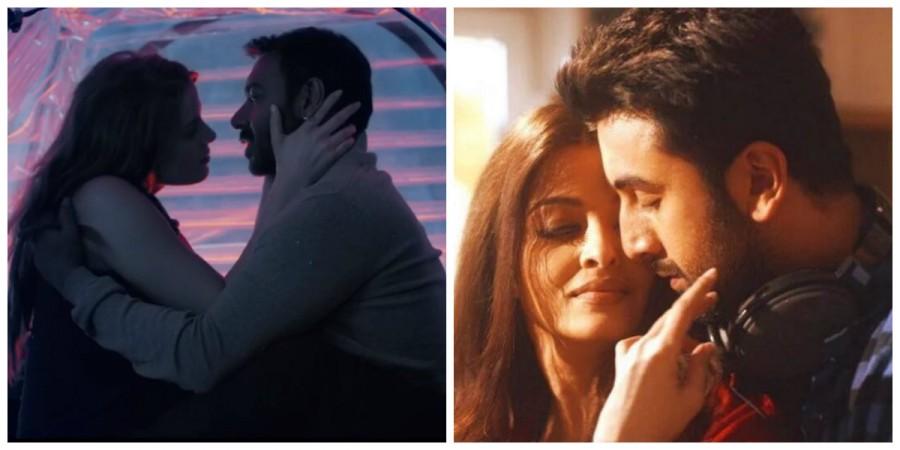 The song Darkhaast starring Ajay Devgn and Erika Kaar in Shivaay has become a talking point for their passionate lip-lock. The scene has been garnering attention as it happens to be Ajay's first on-screen kiss in his career of 25 years. However, Ajay's chemistry with Erika is now bound to be compared with that of Ranbir Kapoor and Aishawarya Rai Bachchan in Ae Dil Hai Mushkil.
Comparisons between Shivaay and Ae Dil Hai Mushkil (ADHM) have been made ever since it was confirmed that the two films will release on the same date, giving rise to a big box office clash. Both the films hold a number of unique aspects that make them two of the most awaited flicks of this year.
While Ajay will apparently be seen romancing two actresses – Sayyeshaa Saigal and Erika Kaar in Shivaay, the fresh onscreen pairing of Ranbir Kapoor and Aishwarya Rai Bachchan has also been receiving much attention.
The song video Bulleya from Ae Dil Hai Mushkil showed Ranbir and Aishwarya's sizzling chemistry in the film. It appears that the two will be seen in a couple of intimate scenes in the movie and their camaraderie is one of the USPs of the romantic drama.
However, with the release of the Darkhaast song, people have started talking about Ajay and Polish actress Erika's steamy chemistry as well. The song video shows Ajay and Erika engaging in a passionate lip-lock. This is the first time that Ajay is seen doing an onscreen kissing scene.
While Ae Dil Hai Mushkil is a romantic drama, Shivaay is a high-octane action film, but with a touch of romance as well. Karan Johar's romantic movie has a strong star cast and on the other side, Ajay's film is being touted to have never-seen-before kind of visuals and VFX.
Nevertheless, the fight between Ae Dil Hai Mushkil and Shivaay has been getting intense with every passing day. Now, only time will tell if Ajay's lip-lock with Erika will tone down the hype around Ranbir and Aishwarya's chemistry. Both the films will hit the screens on October 28.