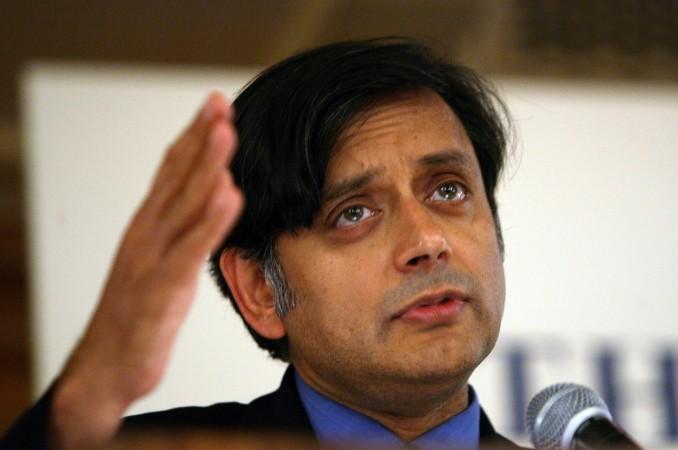 Congress leader Shashi Tharoor appears to have been caught in the political crosshairs of his party, which has accused him of "praising" archrival Prime Minister Narendra Modi. The Kerala Congress has reportedly decided to send a report to the All India Congress Committee leadership demanding action against Tharoor for "hurting sentiments of party workers".
A meeting was called on Wednesday by the Kerala Congress, which was attended by chief minister Oommen Chandy, home minister Ramesh Chennithala and Kerala Pradesh Congress Committee president V M Sudheeran.
"Tharoor has hurt the sentiments of the party workers; it should have been avoided. The KPCC will submit a report to the AICC leadership which will detail about the popular sentiments of the party workers in the state on this issue. This should not be repeated," V M Sudheeran was quoted saying by The Times of India after the meeting.
Tharoor, who had been nominated by Modi for the 'Swachh Bharat' Challenge on 2 October, had accepted the challenge and promised to act on it.
Honoured to accept the invitation of PM @narendramodi to join Clean India campaign. Just landed in Bucharest &heard d news. Action on return

— Shashi Tharoor (@ShashiTharoor) October 2, 2014
However, after being faced with accusations of 'praising Modi', Tharoor took to Twitter to clarify that he was still opposed to BJP's politics.
1/3 Astonished by charges I'm proBJP. My 30-year paper trail of published writings=my idea of India&my profound belief in India's pluralism. — Shashi Tharoor (@ShashiTharoor) October 6, 2014
2/3 Being receptive to specific statements or actions of BJP leaders does not remotely imply acceptance of the party's core Hindutva agenda

— Shashi Tharoor (@ShashiTharoor) October 6, 2014
3/3 Such comments ignore my extensive criticisms of BJP government, which are all a matter of record and which far outweigh positive points — Shashi Tharoor (@ShashiTharoor) October 6, 2014
He also said in an interview that he was being targeted because he was seen as an outsider.
"I have come into politics late in my life, so perhaps there are some incompatibilities that have been manifest in these reactions," Tharoor told NDTV, adding that he was being "seen as a foreign object in the body politics".