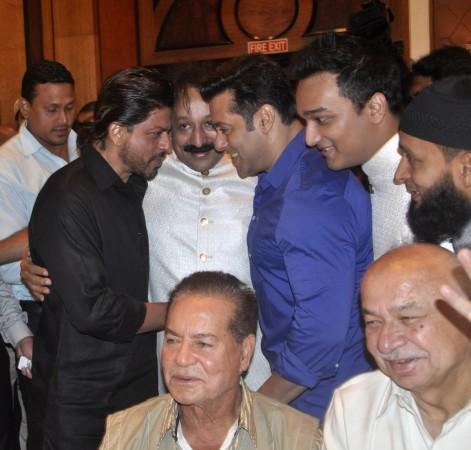 Shah Rukh Khan and Salman Khan's rivalry has finally come to an end after eight long years. Last year, the actors hugged each other and this year Salman even invited Shah Rukh to promote his film "Happy New Year" on upcoming reality show "Bigg Boss 8".
During the press conference of the reality show "Bigg Boss 8" in Mumbai, Salman was asked whether he would promote Shah Rukh's film "Happy New Year" on his show.
Surprisingly, the actor said asked why not.
"Yes, 'Happy New Year' promotions will happen on 'Bigg Boss' why will they not come? It is their decision and the PR activity has already started here," The Times of India quoted Salman as saying.
And apparently, Shah Rukh also responded positively and said that he would definitely go for it if given an opportunity. During the music launch of his film "Happy New Year", SRK said that it's very gracious of Salman to even think of it.
But he also said that the decision will be taken by marketing team and even if he is not able to promote his film on the reality show personally, it should not be taken in a negative term.
"That will be decided by the marketing team. But given an opportunity and if everything permits, I would definitely go for that. It is very gracious of Salman bhai and 'Bigg Boss' that they have thought of me," Shah Rukh told reporters during the music launch of "Happy New Year."
"But due to some reason if I don't go then please don't take it as a negative," he added.
"Bigg Boss" is one of the biggest reality shows in India. The show runs for three months and within that period several stars promote their films on the show.
Considering the fact that "Bigg Boss" serves as a big platform to promote a film and "Happy New Year" being one of the most awaited films of the year, one can expect Shah Rukh and Salman to share screen space on small screen.