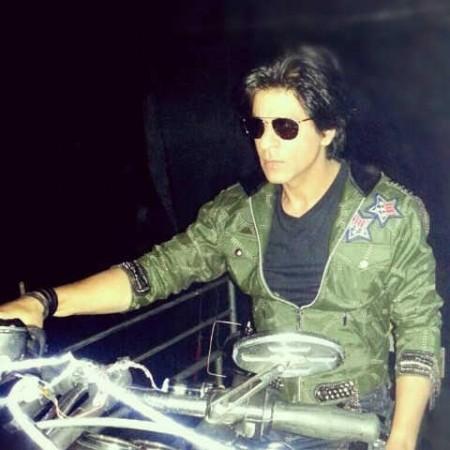 Shah Rukh Khan lived up to the title of the most energetic actor, when he didn't take a break from his rigorous work schedule on his 49th birthday.
While the superstar was waving out to crazy fans waiting outside his palatial bungalow Mannat, a film crew was spotted filming the action, stated a Mid Day report. Apparently, the footage will be used in Maneesh Sharma's "Fan" in which SRK will be seen playing a double role.
This came as a surprise since it was earlier reported that a duplicate Mannat will be erected and the frenzy will be shot with 700 odd people. "Superstar Shah Rukh Khan will be seen celebrating his birthday outside his mansion Mannat and his twin (Rahul) will be watching him from a distance in absolute awe," Bollywood Life reported.
Just like his latest release "Happy New Year", King Khan will sport a different look for which award-winning makeup artist Greg Cannom has been taken onboard. Sharma, who has been an assistant director for a few of Shah Rukh's film, said the star's look will be different and exciting.
"We are attempting a never-seen before look for Shahrukh which will be both challenging for us and exciting for the viewer. Understandably, this will be kept under wraps till the first look of the film is revealed," The Times of India quoted the director.
Another interesting aspect of the actor's next is its train sequence. According to reports, 3 wagons were created and one of them was partially-constructed in order for the crew to shoot the scenes easily. Also, during the recently concluded world tour – 'SLAM! The Tour' – he flew to Los Angeles to get a 3D face scanning done for the special effects to be used in the film.
Slated for release on 14 August, 2015, SRK called "Fan" an intense and commercially viable film.
Shooting for fan at mannat on SHAH's B'day pic.twitter.com/Kkk7FZJn7R

— SRKUniverseAhmedabad (@SRKAhmedabad) November 4, 2014
FAN live shooting going on at mannat. Maneesh Sharma is capturing the shots of the crowd at mannat for film Fan. - 2 pic.twitter.com/AkyE5IuQG8 — ♡♔SRKCHENNAIFC♔♡™ (@SRKCHENNAIFC) November 2, 2014