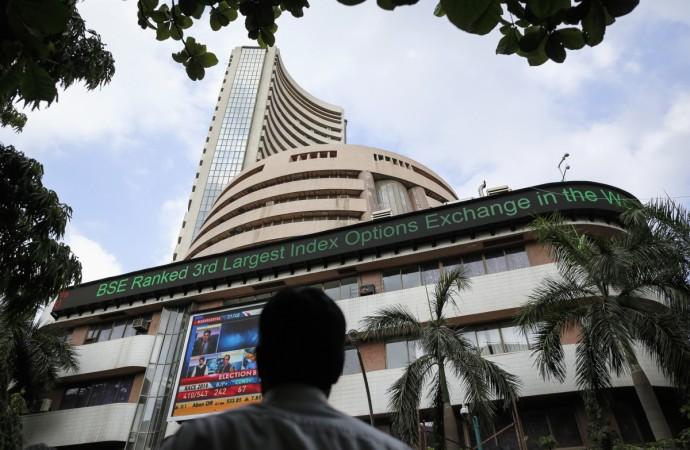 Benchmark equity indices were trading in the red at around 11 am on Friday, extending their Thursday losses, despite positive global cues from Asian stock markets. The BSE Sensex was down 37 points at 28,069 while the NSE Nifty was trading 19 points lower at 8,691. Jaiprakash Power Ventures was trading with gains for the second successive day on stake sale in one of its cement plants for Rs. 500 crore.
Top Sensex gainers were Tata Motors (up 1.59 percent at Rs. 560), Tata Steel (up 1.14 percent at Rs. 393.75) and Mahindra (up 1.03 percent at Rs. 1,386.50).
Select stocks that were trading with phenomenal gains included J Kumar Infrastructure (up 7.79 percent at Rs. 224.20) and MRPL (up 7.38 percent at Rs. 95.25).
The RBI's decision to cut repo rate to a six-year-low on Tuesday has not triggered a rally on the stock markets because investors are looking for cues from September quarter results.
"Despite RBI's liberal action of rate cut by 25 bps, banking stocks have failed to attract buyer's interest. As we have highlighted earlier that now the focus will be more on quarterly results," brokerage Angel Brokerage said in its note on Friday.
"While auto companies have reported strong sales numbers for 2QFY17, which would translate into encouraging numbers, other heavy weight sectors like banks could report a mixed bag of results," it added.
Most of the bank stocks were trading in a narrow range on the NSE and the BSE.
Spectrum auction ends
The latest round of telecom spectrum auction that ended on Thursday saw telcom operators putting bids for 965 MHz spectrum for Rs. 65,789 crore. The five-day auction saw no takers for the premium 700 MHz band due to the high reserve price of Rs. 11,485 crore per MHz.
The cost of delivering mobile services in this band is estimated to be around 70 per cent lower than 2100 Mhz band, used for providing 3G services.
Jaiprakash Associates sells cement business
In other news, Jaiprakash Power Ventures Ltd., a subsidiary of Jaiprakash Associates, approved the sale of Nigrie Cement Grinding Unit to Orient Cement Limited based on an enterprise value of Rs. 500 crore at its board meeting on Thursday.
Besides, Orient Cement also agreed to acquire 74 percent stake in Bhillai Jaypee Cement Ltd (BJCL), a joint venture between Jaiprakash Associates Ltd and SAIL. The acquisition has been done at an enterprise value of Rs. 1,450 crore, Jaiprakash Associates Ltd. said in a regulatory filing on Thursday.
BJCL has a cement manufacturing capacity of 2.2 mtpa, consisting of a clinkerisation unit in Satna in Madhya Pradesh and a grinding unit in Bhillai, Chattisgarh.
"With the acquisitions the cement capacity of Orient will go upto 10.2 mn tons p.a from current 8 mn tons p.a. Currently Orient Cement has two integrated plants 3 mn tons p.a at Devapur in Telangana and another 3 mn tons p.a unit at Chittapur in Karnataka. It also has 2 mn ton p.a grinding unit at Jalgaon in Maharastra," Angel Broking said.