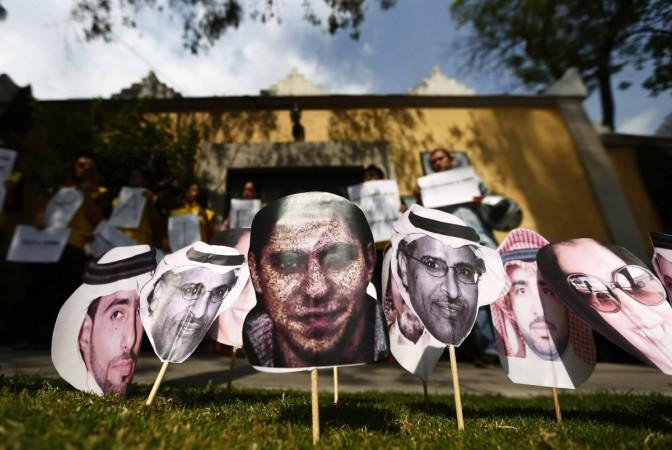 Saudi Arabian blogger Raif Badawi, who was earlier sentenced to 1,000 lashes for his writings alleged to be insulting to Islam, could now face death by beheading, as he may be tried again for apostasy.
Badawai had been sentenced to a 10-year prison term and a fine of one million Saudi riyals (£157,220), apart from the lashes, for setting up the Saudi Arabian Free Liberals Forum. He has so far received 50 lashes slated for every Friday, and was deemed unfit to receive more due to his injuries.
Badawi's family has now put up a message on social media on Sunday claiming that they had information there were attempts to try Badawi again, and that he may be referred to the same judge who had sentenced him to the harsh punishment.
"We have received information from reliable sources that there are attempts within the Penal Court to retry ‪#RaifBadawi on apostasy charges again. Apostasy charge is punishable under Saudi law with the death penalty by beheading...We also received confirmed information that the Supreme Court has referred Raif case to the same judge, who sentenced Raif with flogging and 10 years imprisonment," the statement read.
Badawi was tried for apostasy in 2013, but was spared after he assured the court of his faith in Islam.
His wife, Ensaf Haidar has said that "official sources" from Saudi Arabia had provided the new information, according to The Independent.
The blogger's family has also accused the judge of being 'biased' and claims that it was him who pressed for charges of apostasy against Badawi.
"This judge is biased against raif. He has twice requested that Raif be charged with 'apostasy'. His request was declined at the time on the ground that the Criminal court has no jurisdiction on cases that lead to death penalty. However, due to a new regulation issued by the Supreme Judicial Council on 19.09.2014, the Penal court has now jurisdiction over major cases, which are punishable by the death penalty, amputation and stoning," the family said.
"We have reasons to believe without any doubts that the same judge has again asked the Head of the Court of Apeal to charge Raif with 'Apostasy'. It should be mentioned that this judge stated in his written verdict against Raif, that he has proof and is confident that Raif is an apostate."
Saudi Arabia is already facing international pressure over the issue, with human rights group urging that Badawi be freed.
"We call on the world citizens and governments not to leave Raif dragged by such bigots to death. And we renew our calls to his Majesty King Salman to pardon Raif Badawi and allow him to leave Canada to be united with his family there," the statement said.
Twitterati once again poured out support for the blogger:
@Angela_Merkel The world asks you to save #RaifBadawi from #ISIS style death, #FreeRaif don't let #Saudi murder him free speech is no crime

— Sally Jo (@Sallyjoagain) March 2, 2015
@raif_badawi we are not forgetting you. #FreeRaif #RaifBadawi #IStandWithRaif #FreeRaifBadawi #KSA #SaudiArabia — Almudena (@sanchodavila) March 2, 2015
Absolute outrage - The world must stand up for Raif http://t.co/iyYERTtu4R #FreeRaif

— Francesca Meyrick (@Tchiessie) March 2, 2015