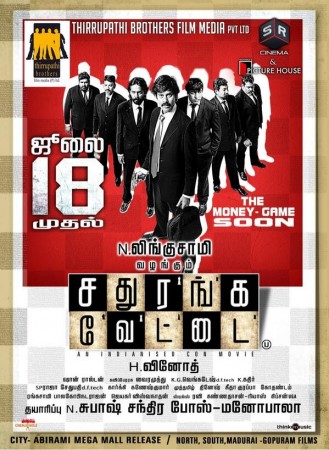 "Sathuranga Vettai", starring cinematographer-actor Natraj, has been receiving positive reviews from critics.
The comedy heist film has been directed by debutant H. Vinoth. The film has Ishara Nair, Ponvannan and Ilavarasu among others. "Sathuranga Vettai" is produced by Manobala and Sanjay Rawal, and the film is distributed by Thirrupathi Brothers, who are riding high on hat-trick hits post the success of "Golisoda" and "Manjapai."
"Sathuranga Vettai" had enjoyed positive pre-release buzz and has also received some encouraging reviews from critics. It remains to be seen if the film will impress the audience.
Plot: Gandhi Babu (Natraj) is a conman who dupes people of their money using fraudulent means like the EMU scam, Multi level Marketing (MLM) companies scam and so on. The film deals with six interesting episodes in his life.
Critics have applauded director Vinoth's interesting screenplay and the way he has presented the film. "With terrific screenplay, racy narration and out-of-the-box presentation, new boy H. Vinoth's Sathuranga Vettai is a surprisingly fresh film that works big time. Right from scene-one when we are shown on a wild life channel a Cheetah hunting an Ostrich in a cunning manner, we know that this is not your usual commercial potboiler," said Sify.
Natraj's performance as a conman has also won accolades from the critics. "Natraj has transformed himself to Gandhi Babu who plots deceptive plans to make easy money from various fraudulent activities. His displayed a majestic body language and a classy dialogue delivery throughout the movie," said Indiaglitz.
The witty and impressive dialogues in the film are one of the major highlights of "Sathuranga Vettai." "The film's biggest strength is its dialogues, each and every dialogue are intelligent, witty and sometimes extra-ordinary. After Manivannan's Amaidhipadai, the satire dialogue writing comes naturally to Vinoth, brilliant show young man!" said Rajasekar S. of Cinemalead.
"Music is scored by the latest sensation Sean Roldan and his background score is a huge advantage for the film. While his score in the first half is racy, the second half requires him to be on the melodramatic side, and he obliges gleefully," said Sai Shyam G. of iflickz.com regarding the technical aspects of the film.
"Cinematography by Venkatesh is functional, while Raja Sethupathi has kept the movie mostly engaging, barring few initial scenes in the second half. With a running time of less than 2.5 hours, the movie does not lag much," Shyam added.
Verdict: Well-Made Film; Worth Watching