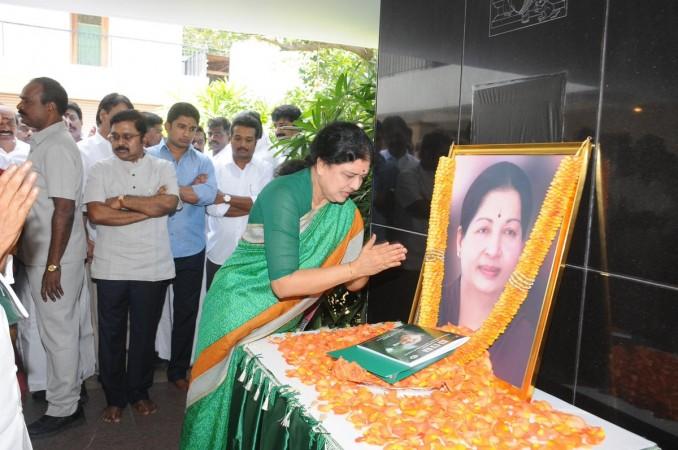 Sasikala Natarajan is all set to take over as general secretary of the All India Anna Dravida Munnetra Kazhagam (AIADMK) on Saturday, December 31. She is succeeding her mentor — former Tamil Nadu Chief Minister Jayalalithaa, who died on December 6 — and should have the task cut out for her when she takes over the reins of the political party.
Here are 5 things she will have on her agenda:
* Rooting out dissent: The AIADMK had, under Jayalalithaa, been a strong unit, with Amma stamping out any and all signs of dissent or betrayal with an iron fist. Sasikala herself was thrown out of the party along with members of her family on charges that they were running a parallel government. Only she was allowed back in, after promising Jayalalithaa that she was in the dark about the whole matter. Sasikala will have to be on the lookout for such dissent and disloyalty, and deal with it with an iron fist.
* Making two power centres work: As long as Jayalalithaa was alive, she ran both the state and the party. With her gone, Sasikala is in charge of the party, and O Panneerselvam is the chief minister of Tamil Nadu. Any sign of any rift between the two will give rise to problems for the party both from within and outside. Thus, Sasikala will need to ensure that they work smoothly and in tandem.
* Not letting her importance diminish: While Sasikala is still the leader of the party, she is not the chief minister. This may lead some to view her as weaker than Panneerselvam. If that happens, it will be a loss not only for her own self, but for the party as well because at the moment she is revered as Chinnamma, much like how Jayalalithaa was called Amma.
* Improving electoral prospects of party: Tamil Nadu has for the past few years been a state ruled by wither the AIADMK or the DMK, which themselves have been led by two strong leaders — Jayalalithaa and K Karunanidhi, respectively. With Amma gone, many might see the AIADMK weakening as the DMK grows stronger. Sasikala will need to marshal her resources carefully in order to avoid this, and take the AIADMK from strength to strength.
* Continuing the work Jayalalithaa did: Sasikala has received as much love and reverence from the people of Tamil Nadu as Jayalalithaa. After Amma's death, AIADMK workers as well as the masses appealed endlessly to her to take over. Sasikala, therefore, will need to continue doing almost everything Jayalalithaa did on the political front. She must also do some things more, or her tenure could be labelled with political stagnation.