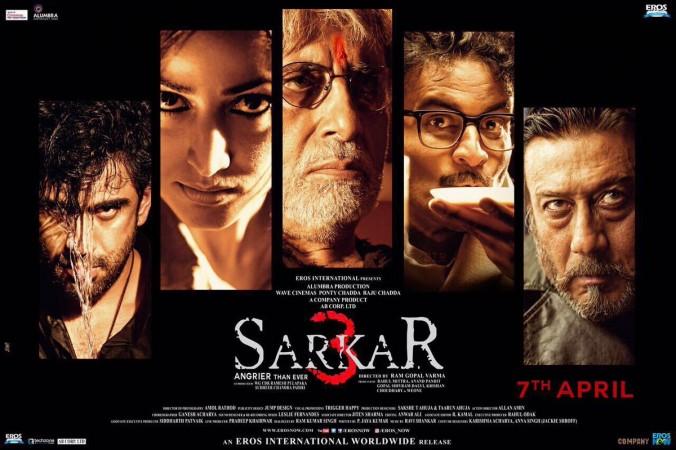 Sarkar 3, starring Amitabh Bachchan, Yami Gautam, Manoj Bajpayee, Jackie Shroff and Amit Sadh, is set to release on Friday, May 12. The movie has received mixed reviews from Bollywood critics.
Meri Pyaari Bindu, Sarkar 3 box office prediction: Will Baahubali 2 affect their opening day collection?
While some of the critics have been praising the storyline and the performances by the ensembled cast, others didn't find it impressive.
The political crime thriller is the third instalment of Ram Gopal Varma's hit franchise Sarkar. Sarkar 3 will see Amitabh's sarkar battling against greater odds as compared to its previous instalments.
In the film, Annu Karkare (Yami) conspires to avenge the death of her father, for which she blames Subhash Nagre's (Sr. Bachchan) sarkar. Subhash Nagre will be seen competing against Michael Vallya (Jackie Shroff) and Govind Deshpande (Manoj Bajpayee) for political dominance. He will also be battling against his own grandson Shivaji Nagre (Amit Sadh).
Check out the trailer of Sarkar 3:
Ahead of the film's release, the Bombay High Court ordered RGV to give credits to Nilesh Girkar for contributing to the screenplay of the film. Girkar had approached the court in January seeking restrain on the release of the film, stating that RGV had not given him the credit for writing the story and was also not paid the amount promised by the filmmaker.
Here are some of the Bollywood critics review of Sarkar 3:
Anita Iyer of Khaleej Times said: "The film relies on wafer thin suspense and you manage to guess bits of the plot and wait for it to unfold. You leave with a feeling that so much could have been done with the stellar cast Ram Gopal Varma managed to pull for the film, after all. Apart from the superfluous shots, the film also has superfluous characters that don't add much to the storyline. But they do stretch the movie and it seems painfully slow in the second half. Watch the film if you are an Amitabh Bachchan fan as he doesn't fail you."
Rohit Vats of Hindustan Times said: "Most of Sarkar 3 is a remake of Sarkar. Nagre is still dealing with absolutely similar problems in absolutely similar manners. Sarkar 3 has enough moments to make you revisit the earlier films. That's both good and bad. Good because you still love Sarkar, and bad because it won't let you love Sarkar 3."
Meena Iyer of Times of India said: "The iconic actor (Amitabh) is in top form, mesmerizing you with his grey shades and grey irises. Coming to the all-important question—is Ram Gopal Varma of Shiva, Satya, Company and the first part of Sarkar back in form? Well, you can see some flashes of the filmmaker's intensity here. His Mahabharatha tale or palace politics as it is termed, plays out uninterruptedly. However there isn't much intrigue because most of the twists are easy to guess. Some of the dialogue is pithy but then again, this accounts for little."
Shubhra Gupta of Indian Express said: "The previous editions of Sarkar worked because Bachchan was given worthy opponents, and the semblance of a story. Here, RGV completely dispenses with such things as plot, as he goes about getting his characters to mouth long-winded dialogues minus punch. And there are moments where you can see flashes of the director RGV used to be, when he pulled off films full of creative leaps, and crazy flourishes."
Stay tuned for more updates.