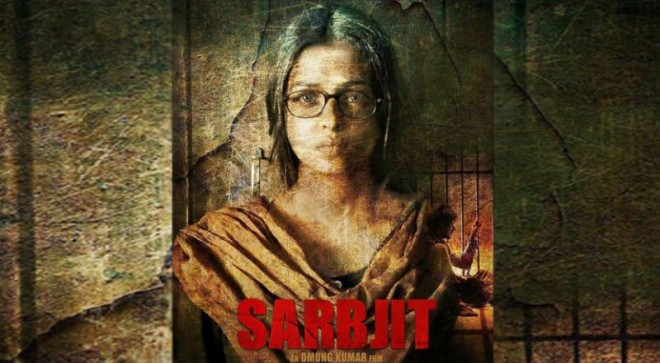 Director Omung Kumar's Bollywood movie "Sarbjit," starring Aishwarya Rai Bachchan and Randeep Hooda, has been receiving positive reviews from audience around the world.
Check: Sarbjit Critics Review | Celebs Review | Sarbjit Poster | Trailer Release
"Sarbjit" is a biographical drama and Utkarshini Vashishtha and Rajesh Beri have written the story for the movie. The film is about a farmer who is mistakenly arrested by the Pakistani Army and tortured for 23 years. The story of the movie is narrated through the perspective of Sarbjit Singh's sister Dalbir Kaur.
Sarbjit Singh (Randeep Hooda) is a farmer, who lives in a village in Punjab with his wife Sukhpreet (Richa Chadha), sister Dalbir Kaur (Aishwarya Rai Bachchan) and father. He is arrested by the Pakistani Army for crossing the border unknowingly. He is convicted as an Indian Spy and named as the person behind the bomb blasts in Lahore city of Pakistan. How his sister Dalbir fights with the Pakistani government for 23 years to prove his innocence forms the crux of the story of "Sarbjit."
Randeep Hooda has put in a lot of hard work to get into the character of Sarbjit Singh and he has done superb acting for it. Breaking away from the image of glamorous roles, Aishwarya Rai Bachchan has reprised an author-backed role and delivered a brilliant acting. Along with the script, their performances are the highlights of the film "Sarbjit," say audience.
Richa Chadha, Darshan Kumaar, Ankita Shrivastav, Shiwani Saini, Ankur Bhatia, Charanpreet Singh and Ram Murti Sharma have played the supporting roles and they have done justice to them. Their performances are also big assets of "Sarbjit." The film has decent production values and background score, picturisation and makeup are the attractions on the technical front, according to audience.
We bring you some viewers' verdict shared on Twitter. Here is the live update of "Sarbjit" movie review by audience:
Taran Adarsh ‏@taran_adarsh
Watched #Sarbjit. A film that leaves you with myriad feelings. Shocked, stunned, saddened at the ordeal Sarbjit and his family underwent... Omung Kumar chooses a tough subject and narrates it most compellingly. Captures pain, pathos, emotions meticulously... #Sarbjit Aishwarya delivers a true to life, forceful performance, lending her character strength, dignity. Takes giant strides as actor... #Sarbjit Randeep Hooda portrays the emotions - affection, sorrow, angst, frustration, helplessness - remarkably. A towering act indeed... #Sarbjit Richa Chadha is top notch. Darshan Kumar is pitch perfect. #Sarbjit shakes you up as it reaches the finale. Relevant, engaging and volatile.
Faridoon Shahryar ‏@iFaridoon
Randeep Hooda is not merely an Actor. He's an institution of Acting.You don't merely respect his talent.You celebrate his Greatness #Sarbjit Aishwarya is an Actor detrmind to exceed xpectations.Whn u stretch ur own n other's parameters,u leave d audience Shaken n Stirred #Sarbjit
¤¤¤ ADI ¤¤¤¤ ‏@UrsOnly0
#Sarbjit film has completely moved me and have affected deeply. Cried thrice throughout film. Top notch performances beautifully shot & with #Sarbjit I have found my new favourite #AishwaryaRaiBachchan performance..Chokher bali goes 2nd..brilliantly performed with detailing. We all are too small to criticize and comment on family suffering which @OmungKumar has depicted in #Sarbjit speechless applaudworthy . Films USP is cinematography, direction and top notch performances which goes inhand with ensemble casting #Sarbjit @OmungKumar. Scene where dalbir meets sarbjit in jail for first time is beautifully shot and performed..Everone cried and connected #Sarbjit. Words are short to put down experience of watching #Sarbjit life and his sister struggle @OmungKumar and @Utkarshini standing oviation . Aishwarya Rai has played dalbir perfectly depicting all her emotions throughout journey with diligence #Sarbjit
Kunal M Shah ‏@iamkunalmshah
So #Sarbjit gives a lesson in humanity & is an eyeopenor... @RandeepHooda you are scaling new heights everyday! RESPECT @OmungKumar Never before has anyone seen #AishwaryaRaiBachchan perform with such honesty & she will silence her critics once & for all #Sarbjit A special mention to the powerhouse called @RichaChadha_ in #Sarbjit wonder how many times will she surprise us with such effortless roles! And finally @DarshanKumaar the man slowly but surely draws all the attention towards himself inspite of the presence of stalwarts #Sarbjit
Tanveer ‏@tansworld
Watch #Sarbjit for the stoic and stunning @RichaChadha_ What she does with her expressions, few can do with words.
Shiva Satyam ‏@AsliShiva
#Sarbjit is a terrific film which makes you cry, with superbly acted by aishwariya & randeep, Omung direction is Fantastic. My Ratings 3.5*.
Akshay Oberoi ‏@Akshay0beroi
Please go watch #Sarbjit. It is a story every Indian should be aware of! Loved it! Take a bow guys! @OmungKumar @RandeepHooda @RichaChadha_
Anushka Ranjan ‏@anushka0110
#Sarbjit has blown my mind. Amazing performances @RandeepHooda #AishwaryaRaiBachchan congratulations @jackkybhagnani ❤️ At the #Sarbjit premiere. What a fantastic film. A must watch.. a story that all should know.
Sonia Shenoy ‏@sonias24
Watched #Sarbjit .Randeep hooda is pure gold,The most underrated actor today.Richa chadha brilliant as usual! lesser said about ash,better.
Nilabh choudhary ‏@NilabhC
Aishwarya delivers a true to life, forceful performance, lending her character strength, dignity. Takes giant strides as actor... #Sarbjit
Anushka Jhota ‏@AJumbled
#AishwaryaRaiBachchan and @RandeepHooda share a never-seen-before chemistry. @SarbjitMovie #Sarbjit Unbelievable torture. Unexplainable emotions. #Sarbjit is in pain, but seldom do you see him cringe. His spirit is inspirational & what keeps @SarbjitMovie going. @RichaChadha_ has few dialogues, but who said she needs any? Her expressions are her voice, her eyes speak volumes. @SarbjitMovie #Sarbjit. @SarbjitMovie is clearly one of the best ever 'biopics', cinematically & emotionally. You'll be smiling & crying at the same time. #Sarbjit If #AishwaryaRaiBachchan is the hero of @SarbjitMovie, @RandeepHooda IS #Sarbjit for you. Who emerges as a winner? The screenplay.
Pallavi Patra ‏@Pallavi128
The script appears a bit loose and inconsistent at times in #Sarbjit highlights a true story, but faulters occasionally from a cinematic perspective.
Aadarsh Tiwari ‏@TheTiwariAdarsh
It is heart breaking to see the journey of Dalbir Kaur ji. And you feel her pain in every shot. It's immensely brave of any actor to perform with such honesty and fearlessness. So proud! #Sarbjit