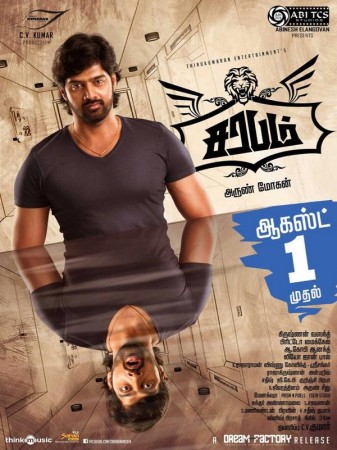 Director Arun Mohan's "Sarabham", which hit the screens on 1 August, has received decent reviews from critics.
"Sarabham" is a mystery thriller film starring Naveen Chandra, Salony Luthra and "Aadukalam" Naren. The film has been produced by CV Kumar under Thirukumaran Entertainment, who has backed some interesting projects like "Pizza", "Attakathi", "Soodhu Kavvum", "Thegidi" and "Mundasupatti."
Critics have given good reviews for "Sarabham" and it remains to be seen whether the film will impress the audience and perform well at the box office.
The mystery thriller revolves around three characters: Vikram (Naveen Chandra), an ambitious architect; Chandrasekhar (Naren), a rich businessman; and his daughter Shruti (Salony Luthra).
Vikram and Shruti plan to stage a kidnap drama to earn quick bucks from Chandrasekhar. Their plan becomes successful after which Shruti returns home. But, the next day Vikram gets a shock when he comes to know that Chandrasekhar's daughter has been found dead with her hands tied. What happens next is shown with some twists and turns.
Check below the review roundup of "Sarabham":
"Sarabham is a passable edge-of-the-seat thriller that seldom loses its grip on your attention. Debutant Arun Mohan directs with an easy hand and his film is about its characters," said Sify. "Credible performances from its fresh cast, and a nail-biting screenplay make up for the plot holes that threaten to eat into this otherwise engaging film."
"The movie has many twists nailed into different portions of the story - however the lack of energy and pace in the script might make one feel that the engaging factor of the entire movie is heavily dependent on these twists. If the audience are clever enough to predetermine the surprise elements in the script, those nails of twist might just get weaker," according to Behindwoods Review Board.
"For a crime thriller, Sarabham is largely tension free. We are only mildly curious when the unexpected happens and there are too many twists that we stop caring after a point. Added to that, we never feel empathetic towards either of the leads, which stops us from being concerned," said M Suganth of Times of India.
"The actors, too, seem miscast," he said. "Naveen is dull while the Jolie-like Salony, despite capturing the femme fatale essence of the character in some scenes, is hampered by not knowing the language,"
"'Sarabham' is an interesting story, and is nothing like anything thus far in K-town," according to Indiaglitz. "Despite the story being rather confusing otherwise, with this talented team, the movie is an excellent entertainer, and is sure to go places,"
"Kudos to director Arun Mohan for penning a mystery thriller revolving around the lead actress," according to Sai Shyam G of iflickz.com. "And with just very few central characters, Arun Mohan has managed to pull off a relatively good show in keeping the audience interested in the movie throughout."
Verdict: Good Attempt