Actor Santhanam's comments at an event related to his forthcoming movie Sabapati has landed him in controversy. His views around the Jai Bhim issue has been severely criticized by a section of netizens while another set of the audience has extended their support to the actor.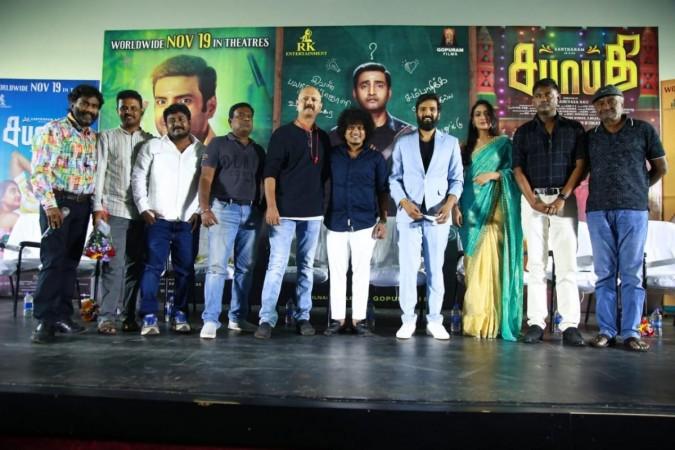 What is the Controversy All About?
A section of media reported that Santhanam had spoken against Suriya and Jai Bhim following which many condemned his stand on Jai Bhim issue. It was projected like he was extending support to Vanniyar community.
What Did Santhanam Say?
Santhanam said that films should not put down one community to showcase the problem of another community or religion." If we talking about Hindus we should not project Christians in the negative light. Let's not hurt others," he said.
"We may talk about the problems of one community but let us not put others down. Let's not pit one against another because people of all castes come to theatre to watch movies," he said, claiming that people come to theatres to get entertained for 2-odd hours.
His comments were slammed by a section of the audience and the fans of Suriya stating that he rose to popularity through comedies which usually put others down and body shamed.

#WeStandWithSanthanam Trends on Twitter
However, Santhanam has got massive support from another section of the audience who have put their weight behind him using #WeStandWithSanthanam hashtag.
"We didn't see Santhanam films because of his caste. Santhanam is entertaining us. Santhanam didn't say anything wrong about Jai Bhim Controversies," a fan writes on Twitter.
Another fan added, "#WestandwithSanthanam I liked Jai Bhim movie but instigating any community for controversy is not right. Looks like it was planned if you observe the movie and details. Santhanam didn't say anything bad. Speak high about yourself but not at the cost of degrading others. [sic]"
Jai Bhim Controversy
Suriya's Jai Bhim has come under attack from the Vanniyar community for projecting their community in a bad light in the film. The Pattali Makkal Katchi has slammed the actor and demanded the makers remove controversial scenes from the film.
The screening of Suriya's 2007 film Vel was stopped recently in a theatre recently in Mayiladuthurai. A legal notice has been sent to the actor, his wife and producer Jyothika, director T J Gnanavel and Amazon Prime demanding Rs 5 crore for damages.
The fans and celebrities extended their support to Suriya by trending the topic through hashtag - #IStandWithSuriya.