It was a sad day for all Sania Mirza fans as the Tennis star bid adieu to tennis with happy tears at the place where she began her journey. For the unversed, Indian Tennis star Sania played the final match of her career at Lal Bahadur Tennis Stadium in Hyderabad.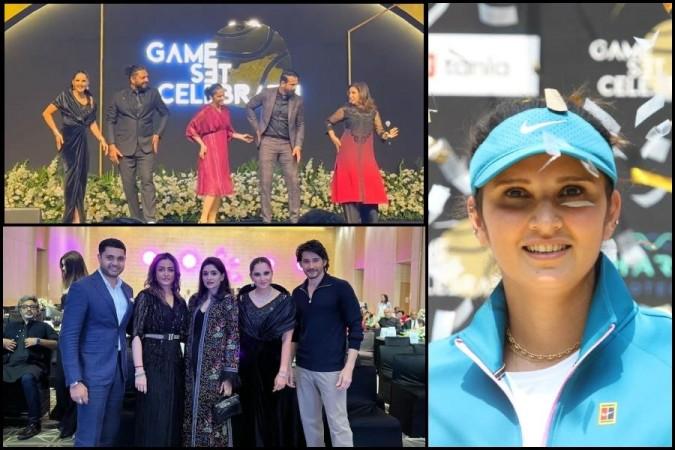 In this stadium, she had indicated her arrival on the big stage by winning the title in the historic WTA single nearly two decades ago. The games were watched by union law minister Kiren Rijiju and former India cricket team captain Mohammed Azharuddin, Telangana minister K T Rama Rao, and Yuvraj Singh. Her family members were also present at the venue.
The sports star bid goodbye to the field and fans with moist eyes

At the exhibition, she played two mixed doubles exhibition matches and won both of them.
"I am so excited to play my last match in front of you all," she said, speaking ahead of the match.
"I have come to Hyderabad for Sania Mirza's send-off, her farewell match. I am delighted to see so many people turning up for this. Sania Mirza is an inspiration not just for Indian tennis but for Indian sports too," said Rijiju.
"When I was the sports minister I used to be in touch with Sania. I wish her all the very best for her future endeavours."
An icon of Indian Tennis bids adieu to the Court. Sania Mirza's grit and brilliance have left an indelible mark on the game.
Her legacy will continue to inspire the generations of young players. Thank you @MirzaSania for the personal invitation to attend final memorable moment! pic.twitter.com/llAZRifa4h

— Kiren Rijiju (@KirenRijiju) March 5, 2023
After the match, Sania was felicitated by Telangana sports minister V Srinivas Goud.
As fans cheered her, Sania turned emotional
Azharuddin praised Sania for her contribution to tennis. "I think today we are giving a great farewell to Sania. What she has done for tennis for women in India and all over the world, I think, is an example. I wish her all the best," Azharuddin told reporters.
Farewell party for Sania
After a thrilling game, a farewell party was organised for Sania Mirza in Hyderabad. A number of prominent people and celebrities, including Mahesh Babu, AR Rahman, Namrata Shirodkar, Neha Dhupia, Huma Qureshi, Farah Khan, Yuvraj Singh, Irfan Pathan, Saina Nehwal, and many others, attended the farewell bash.
The inside pictures and videos have been shared by various paparazzi accounts.
However, Farah Khan's Instagram stories and posts have made Sania and her fans emotional. Farah shared a photo of herself chilling with Sania upon her retirement.
Farah Khan teaches Pushpa's hit song Oo Antava to Yuvraj, Irfan, Saina Nehwal and Sania Mirza
Sania Mirza, Yuvraj, Irfan, and Saina were made to dance at the party to Pushpa's hit song Oo Antava by Sania's BFF Farah Khan, and the video is going viral on Instagram.
Neha Dhupia took to her Instagram Stories to share the funny video of all of them dancing to Oo Antava and wrote in the caption, "Nicely done." Farah then re-shared the same video, and wrote in the caption, "When u get to make sportspeople dance," along with a laughing emoticon.
Sania Nehwal took to her Twitter handle and shared the video of her dancing with Yuvraj Singh, Sania Mirza, Farah Khan and Irfan.
Fans of Sania Mirza pen heartfelt notes upon seeing Sania's farewell
A fan wrote," You both are a true torch bearers for women's sports in India. Thank you @MirzaSania for fighting against all odds!"
Another one mentioned, "We are proud of you Sania ji."
Actor Huma Qureshi, who had accompanied Farah to join Sania's farewell match, also posted pictures with her and wrote in the caption: "To my friend who is an inspiration to a whole generation of young girls & boys ... This is the beginning of another glorious chapter my @mirzasaniar You bring your A game to every room that you walk in ... I love you and admire you deeply . I first saw you live win Wimbledon in 2015 (a dream come true) and since then our friendship has only grown (love emoticon) The only thing we fight over is our left profile while taking that selfie (laughing emoticon) May we always discuss life , love , experiences , fight over selfie angles and laugh out loud #Legend #inspiration #love #friendship."