Samsung has launched Orchid Gray colour variant of the company's flagship Galaxy S8 and the S8+ series in India.
"To further fuel the unprecedented response to Galaxy S8 and Galaxy S8+, Samsung is pleased to introduce the all new Orchid Gray colour. Through this stunning colour, our consumers would make a style statement that would set them above and apart from everyone else," Asim Warsi, Senior Vice President, Mobile Business, Samsung India, said in a statement.
With the addition of Orchid Gray, Samsung Galaxy S8 series are now available in four colours in the country. Other three include Midnight Black, Maple Gold and Coral Blue.
Orchid Gray colour-based Galaxy S8 and the S8+ models will be available for Rs. 57,900 and Rs. 64,900, respectively. Interested consumers can pre-order the devices from July 5 to 11, 2017 on Flipkart and Samsung Shop. They would also be available at select stores from July 12 onwards.
Except for the colour, rest of the internal hardware, such as screen size, RAM, storage, camera and battery capacity, remains the same as in the original models.
Samsung's Galaxy S8 comes in two variants—one, 5.8-inch Galaxy S8 and a bigger 6.2-inch Galaxy S8+ (or Plus). It comes with an all new design language boasting super AMOLED-based Infinity display, a bezel-less, full-frontal, edge-to-edge screen having WQHD+ (2960x1440p) resolution. With extended display, Samsung has incorporated virtual home button right on the screen.
The phones come with IP68 water-and-dust certifications, meaning it can survive five feet underwater for close to 30 minutes. Device owners can take it for a dip in the swimming pool and also take photos and calls, as well.
Most notable aspect of the Galaxy S8 series is the Bixby digital assistant. It is capable of supporting almost every task the application is capable of performing using the conventional touch gesture command.
In the front display panel, the company has incorporated an 8MP snapper with f/1.7 aperture, wide FoV (Field of View) lens, an Iris scanner with face recognition technology.
On the rear, Galaxy S8 series houses 12MP dual-pixel camera with f/1.7 aperture at the top centre, a LED flash to the left side, fingerprint scanner to the right and a heart-rate sensor below. Under-the-hood, it comes packed with 10 nanometer class Exynos 9985 series processor, Android Nougat OS, 4GB RAM, 64GB storage and a 3,000/3,500mAh battery.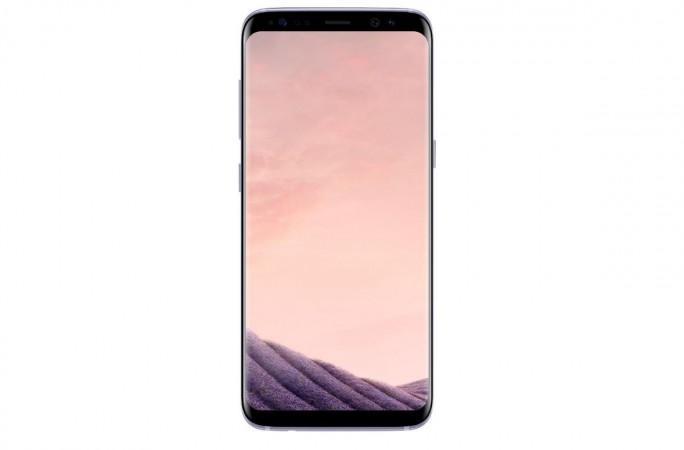 The new Galaxy S8 series also boasts Samsung DeX feature. Users, with the help of the display dock, can convert the phone into a mini-computer via DeX. It will offer new adaptive user experience on a big screen with optimised look and behaviour of apps as per user preferences to provide a PC-like experience.
In a related development, Samsung is expected to launch rugged variant of the flagship phone dubbed as the Galaxy S8 Active in the US in coming days.
Watch this space for latest news on Samsung Galaxy S8 series.
Key specifications of the Galaxy S8 and the Galaxy S8+:
Model
Samsung Galaxy S8
Samsung Galaxy S8+
Display
5.8-inch WQHD+ (2960x1440p) super AMOLED-based infinity display (a bezel-less, full-frontal, edge-to-edge screen)

Aspect ratio: 18.5:9
Pixel density: 570 ppi (pixels per inch)

6.2-inch WQHD+ (2960x1440p) super AMOLED-based infinity display (a bezel-less, full-frontal, edge-to-edge screen)

Aspect ratio: 18.5:9
Pixel density: 529 ppi

OS
Android 7.1 Nougat with Samsung Bixby digital assistant
Android 7.1 Nougat with Samsung Bixby digital assistant
Processor

Europe & Asia: 10nm class 64-bit Samsung Exynos 9 series 8895 octa-core CPU
US: Qualcomm Snapdragon 835 quad-core (based on region of sale)

Europe & Asia: 10nm class 64-bit Samsung Exynos 9 series 8895 octa-core CPU
US: Qualcomm Snapdragon 835 quad-core (based on region of sale)

RAM
4GB LPDDR4
4GB LPDDR4
Storage
64GB (UFS v2.1)
64GB (UFS v2.1)
Camera

Main: 12MP camera with dual-pixel autofocus, OIS (Optical Image Stabilisation), laser autofocus, f/1.7 aperture, 4K video recording
Front :8MP camera with autofocus, 4K video recording, wide FoV (Field of View) lens

Main: 12MP camera with dual-pixel autofocus, OIS (Optical Image Stabilisation), laser autofocus, f/1.7 aperture, 4K video recording
Front :8MP camera with autofocus, 4K video recording, wide FoV (Field of View) lens

Battery
3,000mAh with fast and wireless charging ability
3,500mAh with fast and wireless charging ability
Network
4G-LTE
4G-LTE
Add-ons
Iris scanner with Face recognition technology, fingerprint sensor, Single/Dual-SIM (based on region of sale), Bluetooth 4.2 (with apt-X & LE), Wi-Fi (802.11 b/g/n/ac; dual-band: 2.4GHz & 5GHz), VHT80 MU-MIMO, NFC (Near Field Communication), heart rate sensor, Type C USB port, MST (Magnetic Secure Transmission) technology.
Iris scanner with Face recognition technology, fingerprint sensor, Single/Dual-SIM (based on region of sale), Bluetooth 4.2 (with apt-X & LE), Wi-Fi (802.11 b/g/n/ac; dual-band: 2.4GHz & 5GHz), VHT80 MU-MIMO, NFC (Near Field Communication), heart rate sensor, Type C USB port, MST (Magnetic Secure Transmission) technology.
Colours
Midnight Black, Maple Gold, and Orchid Gray
Midnight Black, Maple Gold, Orchid Gray and Coral Blue
Dimensions
148.9 x 68.1 x 8.0mm
159.5 x 73.4 x 8.1mm
Weight
155g
173g
Price
Rs. 57,900
Rs. 64,900