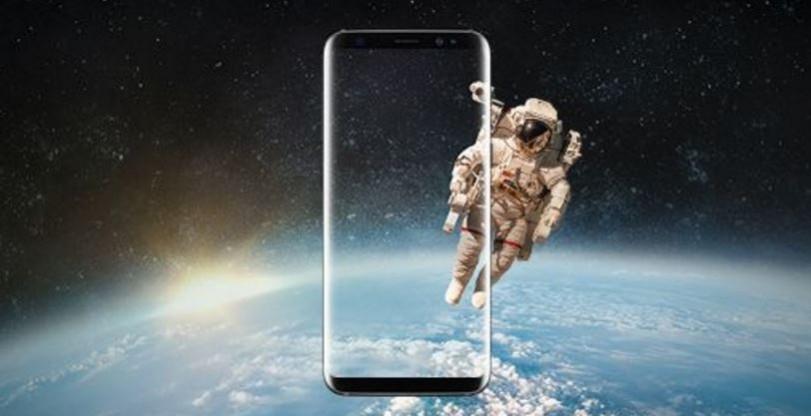 Leading smartphone-maker Samsung on March 29 launched the new Galaxy S8 series. The initial reaction from the tech critics and fans has been overwhelmingly great.
We believe the South Korean company will definitely shed the proverbial monkey (Galaxy Note7) off its back and look forward for a prosperous 2017. Thanks to the void left by the suspension of Galaxy Note7 sale, Apple raked in huge revenue from not-so-inspiring iPhone 7 series in the holiday season (October-December 2016).
With the launch of the Galaxy S8, the battle for smartphone market supremacy just got fiercer, as the former comes with a boat load of new features, which make Apple iPhone 7 look outdated already.
Top 8 features that give clear edge for Samsung Galaxy S8 series over the Apple iPhone 7 series:
Dual-edge Infinity Display:
The most interesting aspect of Samsung Galaxy S8 series is its gorgeously designed screen. The company, which aptly calls it the 'Infinity Display' is a game changing feature. Although Samsung has increased the height of the display in terms of dimensions, 80 percent of the space is dedicated for viewing purposely only. It has even taken off the "Samsung" branding, which used to dot on top every flagship phone. With this, users will find it handy while using the spilt screen feature to type message, while watching a YouTube video.
The screen has been stretched in the top and bottom sides, while horizontally, it cascades to the back, leaving almost zero-space between the display and the chassis. This apparently has created 18.5:9 aspect ratio, which no other smartphone in the industry can boast off.
[Note: Recently released LG G6 with FullVision display boasts 18:9 aspect ratio]
And, also its WQHD+ (2960x1440p) resolution screen, is another industry first, which guarantees ultimate cinematic viewing experience.
Further, the Galaxy S8 series is the world's first smartphone to boast Mobile HDR Premium certification awarded by UHD Alliance.
Samsung DeX:
Extending the use of wide screen on Galaxy S8, the company has launched a companion accessory Samsung DeX (Destop eXtension) dock, which when the phone is stationed on it can transform a monitor to a large screen Galaxy S8. Add a couple of peripherals in to mix, such as a mouse and a keyboard, you get to have a full fledged Android-powered computer.
It will offer new adaptive user experience on a big screen with optimised look and behaviour of apps as per usage preferences of the customer to provide a PC-like experience.
To start working, users simply insert their Samsung smartphone into the DeX Station, which connects the smartphone to an HDMI compatible monitor, and connect to any Bluetooth-enabled, USB or RF-type keyboard and mouse.
You can perform basic functions ranging from composing mail to editing Microsoft Document, create power point presentation and attach it and send it on mail, and do more activities.
Guess what, Samsung DeX via Virtual Desktop Infrastructure (VDI), which will be made available by the end of June, will allow users to remotely and securely access virtual desktops through partner solutions, including Citrix, VMware and Amazon Web Services.
Samsung DeX comes with two USB 2.0 ports, an Ethernet port, USB type-C power-in and a cooling fan. The DeX Station also features Adaptive Fast Charging (AFC) technology to charge Samsung smartphone while docked.
Iris & Face Recognition:
Samsung had already demoed the capabilities of Iris scanner in the Galaxy Note7. However, the company, in a bid to make Galaxy S8 more secure, has added face recognition technology.
"The technology works by utilizing an immense amount of data to recognize patterns, such as small differences in facial features," Samsung claims.
With the dual bio-metric software, smartphone detects, aligns, extracts and compares facial landmark points such as the width of the user's nose or the distance between their eyes to stored data to grant or deny access.
"As the user continues to utilize the feature more and more, the phone gets better at recognizing them, despite small changes in the angle or position of their face during the verification process," Samsung added.
Bluetooth 5.0:
This is another major game changing feature, Samsung, probably not wanting to elongate the keynote presentation, skipped to make a mention in Galaxy S8 launch event.
With Bluetooth 5.0 certification, the Galaxy S8 series will be able transfer files between connected phones for up to 2mbps wirelessly.
And also the distance range has quadrupled, meaning the Galaxy S8 owners can maintain connectivity between compatible headphones, speakers and fitness trackers, for up to a staggering 800 feet.
Another notable aspect of this feature is that the Galaxy S8 will also be able to stream audio to two Bluetooth headsets or speakers at the same time.
Fast & Wireless charging technology:
Fast charging technology is not that new in the smartphone industry. It's been here for more than two years and yet Apple, a company that revolutionized smartphone industry in 2007, which eventually led to downfall two biggest mobile-makers Nokia and BlackBerry, has not embraced the fast and wireless charging yet.
Whereas, Samsung previously accused of copying Apple features, has leapfrogged the arch rival, in this aspect.
Gigabit LTE connectivity:
Even Gigabit LTE connectivity support is also not that new in the smartphone industry. Earlier in year, Chinese telecommunication major ZTE and also Sony unveiled smartphones—Gigabit and Xperia XZ Premium, respectively boasting this feature.
But, Samsung, if it keeps the promise of releasing the phone on April 21, will beat them and become the world's first commercial smartphone to support the Gigabit LTE, which allows device owners to download files at an astronomical speed of 1gbps.
3.5mm headphone jack:
Many think that having 3.5mm audio jack port might not give Galaxy S8 any edge over Apple iPhone 7 series, but this humble feature offers nostalgia of listening to music the proper orthodox way via headphones.
See, what Apple has done to iPhone 7 users by shedding the audio jack. People have to buy the tiny wireless AirPods separately, which are also prone to getting lost.
Yeah, Apple has released 'Find my AirPods' feature in the iOS 10.3 update, but still it will not help that much, if it goes missing a crowded public space.
Further, Apple iPhone 7 package, which also comes with Lightning Connector and a Lightning to 3.5 mm Headphone Jack Adapter, users still won't be able to listen to music while charging the device.
Some Apple fans went little too far by drilling a hole in their new iPhone 7 series.
Honorable mention:
MST (Magnetic Secure Transmission):
The MST feature, which has been seen even in mid-tier Samsung phones for many years, is a handy feature that enables wireless transaction.
Apple Pay, which leads the global smartphone market in terms wireless cash transaction uses only the NFC (Near Field Communication) based technology, thereby limiting its use only in developed market.
With MST, Samsung Galaxy S8 series will have an edge in emerging markets like India, where digital transaction has just started gain pace. There, PoS (Point-of-Sale) machines are still using the old MST feature for transaction.
Bixby digital assistant:
For those unaware, Samsung Bixby digital assistant is made by the South Korean company in collaboration with its newly acquired start-up Viv Labs, which by the way is co-founder by the original co-creators of Apple Siri.
Before to the acquisition, Viv Labs had already demoed a near-completed digital assistant dubbed as the "Viv". It was intuitive enough of having a normal conversation with another person and get the service delivered, without the user having to open an app and choose options on the screen.
Now, those people have come with the new Galaxy Bixby that will do more than rivals such as Google Assistant, Amazon Alexa, Microsoft Cortana and even the Apple Siri.
Instead of just throwing information on the screen for a query as done by rival assistant, Samsung Bixby goes an extra mile of completing a given task.
It is said to be capable to support almost every task that the application is capable of performing using the conventional touch gesture command. Currently, the rival digital assistant have mastered in a few select applications leading to confusion among users which commands works via touch and voice.
Samsung has promised to make Bixby perform functions and compatible with more third party apps in coming days. Samsung Bixby is also expected to be introduced to older devices via software update soon.
Check out the Samsung Bixby Demo video: