With less than a week left for the Galaxy S8 launch, popular retail chain Target has reportedly released a print-ad to public, revealing details on when consumers can book Samsung's new flagship phone.
Target's promotional flyer, which is in possession with The Couponing Couple, claims consumers will be able to pre-order the Galaxy S8 (and also S8 Plus) from April 2 onwards.
Also read: Samsung Pay finally arrives in India: Here's how to add credit, debit cards and Paytm wallet
Target's ad also claims that the buyers will get $100 gift card and a new Gear VR head gear worth $129.99 free with the new Galaxy S8 series.
The leaked pre-order date details of the Galaxy S8 series seems legit, as it has become a common practice of Samsung, and also among other OEMs (Original Equipment Manufacturers) to commence pre-registrations soon after the launch and weeks later, make it available in stores.
Rival brands -- LG G6 and Nokia 6, 5, 3 series -- which made their debut at Mobile World Congress (MWC) 2017 in late February, are available for pre-order in select markets and are scheduled to hit stores in the coming weeks.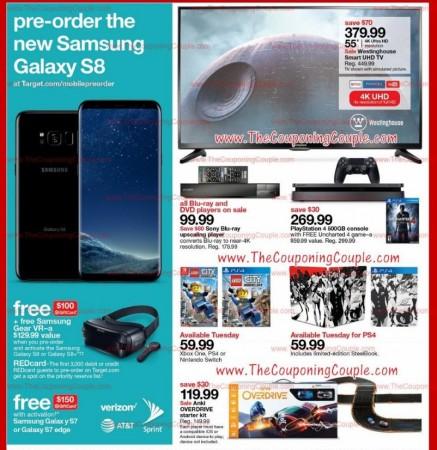 Even the offering of gift vouchers with flagship smartphones is also common among retail chain companies to pull customers away from network carriers, who offer phones at subsidised prices with contract. All-in-all, the leaked flyer seems to be a real deal.
So far, Samsung has not made official comments on the report. We just have to wait a few days to know what the company has in store for the fans.
Samsung Galaxy S8: What we know so far
As per the recent reports, Samsung's new phone is coming in two variants — a generic 5.8-inch Galaxy S8 and a bigger 6.2-inch Galaxy S8+ (or Plus). They will be made available in blue, bright black, gold, matte black, orchid, pink and silver colour-based shell options.
Key design changes include repositioning of physical finger print sensor (seen in Galaxy S7 series) to back of the device, right beside the camera module. Also, both the phones will boast super AMOLED-based dual-edge display with WQHD (2560x2400p) and 3D curved glass cover.
In the front panel, the company has reportedly incorporated an 8MP snapper with wide FoV (Field of View) lens along with six sensors -- Proximity sensor, Ambient Light Sensor (ALS), IR-LED transmitter, receiver for iris recognition and a network receiver into the phone.
On the rear, Galaxy S8 series will come with four modules — 12MP camera at the top center, LED flash to the left side, fingerprint scanner to the right and a heart-rate sensor below.
Like previous Galaxy S series, the new Galaxy S8 series will come equipped with different CPUs for select markets. Samsung flagship series headed to America, China, Japan and some select markets will come with Qualcomm Snapdragon 835 CPU. Whereas, the rest of the markets including Europe and India, will receive mobiles powered by Samsung's in-house built Exynos 9 series (8895) octa-core System-on-Chip (SoC).
Watch this space for latest news on Samsung Galaxy S8 series.
Also read: Samsung announces Google Assistant-rival AI-based Bixby; Galaxy S8 confirmed to come with digital assistant
Most expected specifications of the Galaxy S8 and the Galaxy S8 Plus:
Model
Samsung Galaxy S8
Samsung Galaxy S8 Plus
Display
5.8-inch WQHD super AMOLED screen with 2560x2400p resolution + 3D curved glass
6.2-inch WQHD super AMOLED screen with 2560x2400p resolution + 3D curved glass
OS
Android 7.1 Nougat with Samsung Bixby digital assistant
Android 7.1 Nougat with Samsung Bixby digital assistant
Processor
10nm class 64-bit Samsung Exynos 9 series 8895 octa-core CPU/ Qualcomm Snapdragon 835 quad-core (based on region of sale)
10nm class 64-bit Samsung Exynos 9 series 8895 octa-core CPU/ Qualcomm Snapdragon 835 quad-core (based on region of sale)
RAM
4GB/6GB (only in China & South Korea)
4GB/6GB (only in China & South Korea)
Storage
64GB
64GB
Camera

Main: 12MP dual-pixel camera
Front :8MP camera

Main: 12MP dual-pixel camera
Front :8MP camera

Network
4G-LTE
4G-LTE
Add-ons
Single/Dual-SIM (based on region of sale), Bluetooth, Iris scanner, Wi-Fi, heart rate sensor, Type C USB port, IP68 water-and-dust resistant certifications
Single/Dual-SIM (based on region of sale), Bluetooth, Iris scanner, Wi-Fi, heart rate sensor, Type C USB port, IP68 water-and-dust resistant certifications
Glass-based cases (colours)
blue, bright black, gold, matte black, orchid, pink and silver
blue, bright black, gold, matte black, orchid, pink and silver