With just days left for Samsung's Galaxy Unpacked 2017, complete specifications and price details of the Galaxy S8 series has surfaced online, leaving very little for us to imagine, what new features Galaxy S7's successor would come with.
German blog WinFuture has got hold of the Samsung press note containing spec-sheet, images and price details of Samsung Galaxy S8 and S8 Plus.
Also read: Top 5 smartwatches that will make you look classy and adventurous
The leaked images confirm the long-rumoured design language, which shows both the Galaxy S8 series models having curved edge screen and the extension of display in the top and bottom. And also, relocation of fingerprint sensor to the back, right beside the camera module on the top.
As far as hardware is concerned, Samsung Galaxy S8 and the S8 Plus will come with 5.8-inch and 6.2-inch screen sizes, respectively. Both will have a super AMOLED curved display with 2960x1440p resolution.
Under-the-hood, the Galaxy S8 series is said to come with Android 7.0 Nougat OS, 4GB RAM, 64GB internal storage (via microSD card), 12MP primary camera (back-side) with dual-pixel autofocus, OIS (Optical Image Stabilisation), laser autofocus, f/1.7 aperture, 4K video recording and a 8MP camera with autofocus, 4K video recording, wide FoV (Field of View) lens. It will also come equipped with six sensors --Proximity sensor, Ambient Light Sensor (ALS), IR-LED transmitter, receiver for iris recognition, and a network receiver into the phone.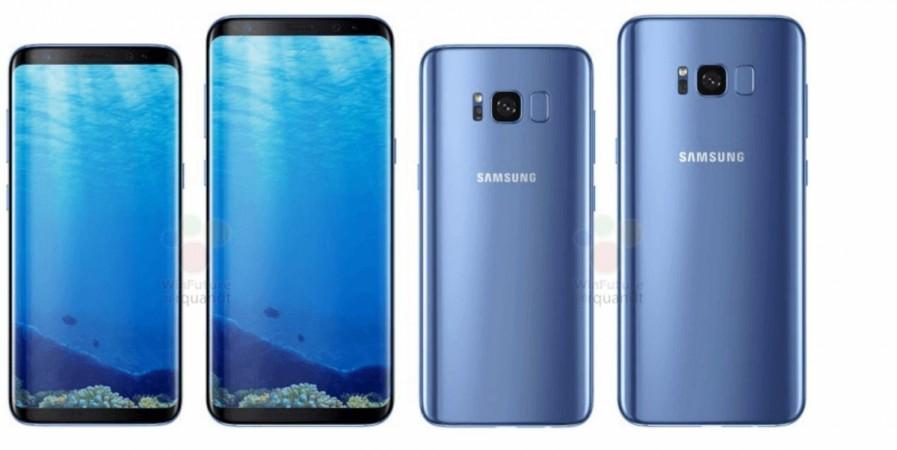 Depending on the region of sale, the Galaxy S8 series will have different set of CPUs. Samsung flagship series headed to America, China, Japan and some select markets will come with the Qualcomm Snapdragon 835 CPU. Whereas, the rest of the markets, including Europe and India, will receive mobiles powered by Samsung's in-house built Exynos 9 series (8895) octa-core System-on-Chip (SoC).
Samsung's Galaxy S8 and the S8 Plus is slated to be priced €799 (approx.) and €899, respectively.
So far, Samsung has not responded to the leaked report. We just have to wait for a few days to know what the company has in store for fans. It is expected to get unveiled on March 29 in New York City.
Watch this space for latest updates on Samsung Galaxy S8 series.
Most expected specifications of the Galaxy S8 and the Galaxy S8 Plus:
Model
Samsung Galaxy S8
Samsung Galaxy S8 Plus
Display
5.8-inch WQHD super AMOLED screen with 2960x1440p resolution + 3D curved glass
6.2-inch WQHD super AMOLED screen with 2960x1440p resolution + 3D curved glass
OS
Android 7.1 Nougat with Samsung Bixby digital assistant
Android 7.1 Nougat with Samsung Bixby digital assistant
Processor
10nm class 64-bit Samsung Exynos 9 series 8895 octa-core CPU/ Qualcomm Snapdragon 835 quad-core (based on region of sale)
10nm class 64-bit Samsung Exynos 9 series 8895 octa-core CPU/ Qualcomm Snapdragon 835 quad-core (based on region of sale)
RAM
4GB/6GB (only in China & South Korea)
4GB/6GB (only in China & South Korea)
Storage
64GB
64GB
Camera

Main: 12MP camera with dual-pixel autofocus, OIS (Optical Image Stabilisation), laser autofocus, f/1.7 aperture, 4K video recording
Front :8MP camera with autofocus, 4K video recording, wide FoV (Field of View) lens

Main: 12MP camera with dual-pixel autofocus, OIS (Optical Image Stabilisation), laser autofocus, f/1.7 aperture, 4K video recording
Front :8MP camera with autofocus, 4K video recording, wide FoV (Field of View) lens

Battery
3,000mAh
3,500mAh
Network
4G-LTE
4G-LTE
Add-ons
Single/Dual-SIM (based on region of sale), Bluetooth 4.2 (with apt-X & LE), Wi-Fi (802.11 b/g/n/ac; dual-band: 2.4GHz & 5GHz), NFC (Near Field Communication), heart rate sensor, Type C USB port, IP68 water-and-dust certifications

Sensors: sensors --Proximity sensor, Ambient Light Sensor (ALS), IR-LED transmitter, receiver for iris recognition, and a network receiver into the phone.

Single/Dual-SIM (based on region of sale), Bluetooth 4.2 (with apt-X & LE), Wi-Fi (802.11 b/g/n/ac; dual-band: 2.4GHz & 5GHz), NFC (Near Field Communication), heart rate sensor, Type C USB port, IP68 water-and-dust certifications

Sensors: sensors --Proximity sensor, Ambient Light Sensor (ALS), IR-LED transmitter, receiver for iris recognition, and a network receiver into the phone.

Glass-based cases (colours)
Black, Blue, Gold, Orchid Gray, and Silver
Black, Blue, Gold, Orchid Gray, and Silver
Dimensions
148.9 x 68.1 x 8.0mm
-----
Weight
151g
-----
Price
€799 (approx. $864/Rs. 56,455)
€899 (approx. $972/Rs. 63,521)