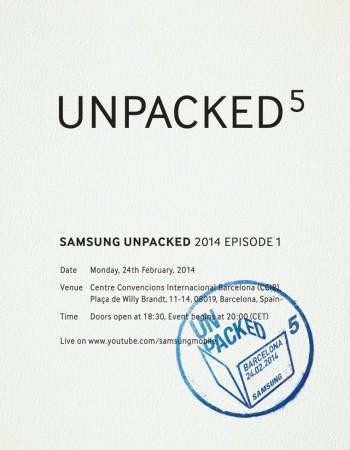 The final countdown to the release of Samsung Electronics' much-hyped smartphone Galaxy S5 has began, with the South Korean giants expected to announce it in a few hours' time at its "UNPACKED 5" event. But it has now emerged that the device has been leaked, ahead of its official unveiling.
The world's leading smartphone maker is organizing Samsung Unpacked 2014 Episode 1 at 20:00 CET (12:30 am IST Tuesday, 11am PST, 2 pm EST, 7pm GMT) on Monday in Barcelona, where its much-anticipated flagship device is expected to be launched.
However, a member of the Hardware Zone forum named OKCATYEON, has posted purported images of Samsung Galaxy S5, even as the world is waiting for its official launch at "UNPACKED 5".
The authenticity of the leaked images can be questioned but if it turns out real, the new smartphone has the same look of its predecessors with a physical button on the front panel, which may disappoint gadget lovers who expected a new design. The forum member claimed that the device will feature a fingerprint scanner and have a 16-megapixel camera, which is very much in sync with earlier reports. The member also went on to say that Samsung Galaxy S5 will feature a new heart rate sensor.
According to earlier reports, Samsung's flagship smartphone is expected to feature water and dust proof technology, multi-hovering technology and head-tracking gesture control and fingerprint sensor. It is expected to be powered by 2.5Ghz Snapdragon805 (main) or 2.0Ghz Octa-core Exynos6 (64-bit) and feature 5.2 or 5.25-inch AMOLED display. Several reports suggested that it will run on the new Android v4.4 KitKat OS.