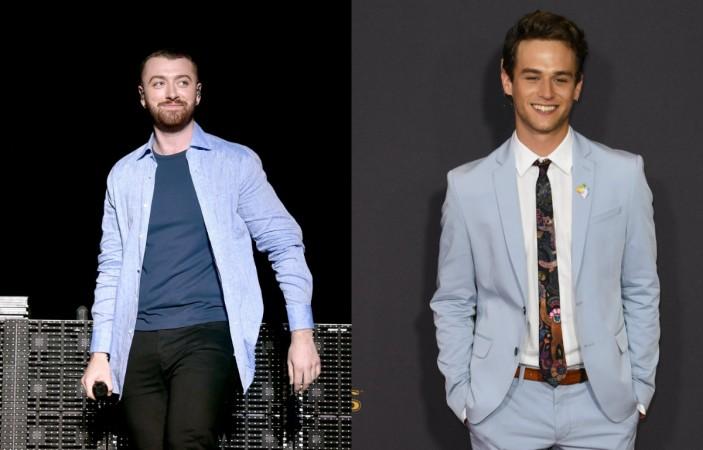 Fans were stunned when pictures featuring Sam Smith passionately kissing the 13 Reasons Why actor Brandon Flynn emerged online. The couple was captured by paparazzi on a warm sunny day indulging in some adorable PDA.
Walking hand-in-hand, the good-looking men sparked off dating rumours and they did look like they were having a good time together.
Also Read: Angelina Jolie's ONLY criteria to date someone after split: Report
The Grammy award-winning singer was seen sporting a casual pair of clothes – white T-shirt and blue jeans – with a stylish set of sunglasses blocking the sun from his eyes. On the other hand, the Miami-born actor worn a black and white striped T-shirt, a pair of black pants and an overcoat wrapped around his waist.
Like the smooch wasn't enough for fans, Sam and Brandon were also spotted dining together on Monday night at Catch NYC, People Magazine reported. However, unlike the Sunday spotting, the rumoured couple were accompanied by their friends at the dinner date.
Onlookers present in the restaurant claim that Sam and Brandon were seen getting "too cosy" in the dining room before they decided to hit the roof for drinks and smokes.
The couple's outing comes a month after Sam's told Beats 1 that he was "very, very single." The Too Good at Goodbyes singer was last linked to British model Jay Camilleri, in 2016. A few months ago, talking to musical legend Sir Elton John, the singer revealed that he underwent a massive heartbreak that almost made him quit music.
"There was a period, when making the record, that I was in a really bad place. I got dumped, which wasn't very nice. Writing music about that kind of thing is normally like therapy for me, but when I got dumped this time around I just couldn't write for about two months," he said.
As for Brandon, the 23-year-old actor recently said he identified himself as part of the LGBT (Lesbian, Gay, Bisexual and Transgender) community. The heartthrob took to Instagram recently to show his support to the community.
It is to see when the couple will officially announce their relationship.