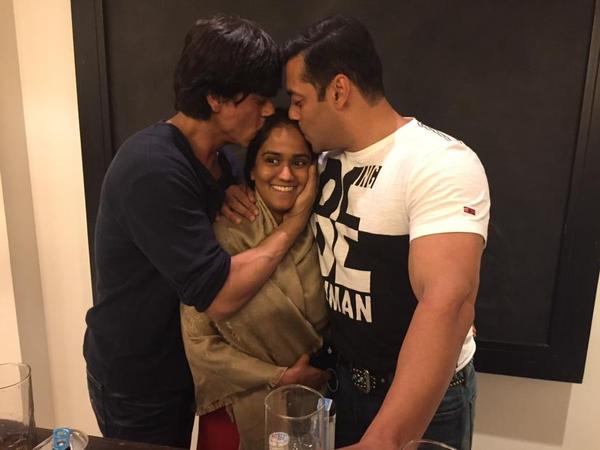 The Salman-Shah Rukh patch-up photo taken at the former's sister Arpita Khan's Sangeet ceremony has been the talk of the town since last week. But netizens gave it a crass spin by creating morphed images of the two superstars 'lip-locking'.
Salman, who is best known for his scathing wit, told the media and viewers of his high-voltage reality show "Bigg Boss 8" that the 'real' pictures of him and SRK kissing have been tucked away safe and that he would not reveal it to anyone.
"The recent news is that Salman and Shah Rukh are friends again! Also, the real kissing pictures of him and I are with me and I'm not going to show it to anybody," Miss Malini quoted the actor.
Shah Rukh, who landed at Arpita-Aayush's wedding reception post midnight, was spotted having a light conversation with the "Kick" star about the images, which have gone viral on social media. Salman, who was in the mood to have some fun, said the 'original' copies of them 'smooching' are with him.
However, photo of the two stars kissing Arpita affectionately were also made into fun memes, in which the bride's face was replaced with Aamir Khan and Rakhi.
The Shah Rukh-Salman rivalry goes back a long way. The two, who were once thick friends, parted ways at Katrina Kaif's birthday in 2007. However, in last two years, the stars' equation had normalised a bit and they were often spotted praising one another.
The Baba Siddiqui Iftar party hug was indeed a high point in their friendship and did sort of bridge the gap, but the cold vibes still existed until the two ironed out their differences at the Arpita-Aayush wedding.
"Not with arrogance but with utmost humility I say that Salman and me have had many moments of happiness in our lives and very few moments of sorrow but one thing which I can assure is that we will always be there for each other in life to share each other's moments of happiness and despair," DNA quoted SRK.
Watch the video here: